cafe

ca·fé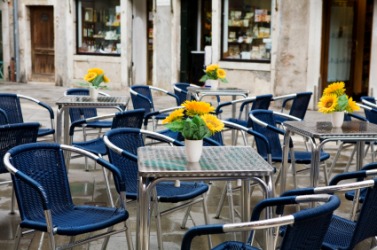 A sidewalk cafe in Venice.
noun
The definition for cafe is a place of business where a limited variety of food, beverage and snack items are offered in a casual atmosphere.

An example of cafe is a small establishment where local shoppers would order a sandwich and coffee.
---
cafe
or café′
a coffeehouse
a small restaurant, esp. one serving alcoholic drinks and sometimes providing entertainment
a barroom
Origin of cafe
Fr, coffee, coffeehouse from Italian
caffè
, coffee
CAFE
Corporate Average Fuel Economy
---
CAFE
abbreviation
corporate average fuel economy
cafe
also ca·fe
noun
A restaurant serving coffee and other beverages along with baked goods or light meals.
Origin of cafe
French
coffee, café
from
Italian
caffè
coffee
from
Ottoman Turkish
qahve
; see
coffee
.
---
cafe

---
cafe - Computer Definition
(1) See Internet cafe.
(2) A Java development package for Windows and the Macintosh from Symantec. It was Symantec's first development environment for Java, which was superseded by Visual Cafe. See Visual Cafe.
---