cafeteria

caf·e·te·ri·a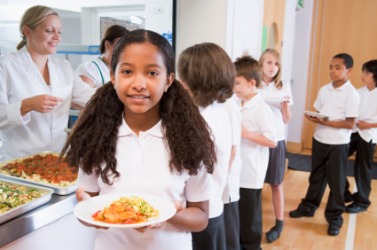 Children getting their lunch in a cafeteria.
noun
The definition of a cafeteria is a self-service restaurant where you select and pay for food yourself, or a dining area where meals can be purchased or brought from home.

The big room with a lunch line and tables where kids eat their lunches while at school is an example of a cafeteria.
---
cafeteria
a self-service restaurant in which food is displayed on counters
Origin of cafeteria
AmSp, coffee store
allowing a choice from among several options: used chiefly to designate company benefit or insurance plans that allow each employee to select benefits or coverage best suited to his or her needs
---
cafeteria
noun
A restaurant in which the customers are served at a counter and carry their meals on trays to tables.
A dining area, as at a school or office building, where meals may be purchased or brought from home and eaten.
Origin of cafeteria
Spanish
cafetería
coffee shop, cafeteria
from
café
coffee
ultimately
(
via
French
café
) (
or
Italian
caffè
)
from
Ottoman Turkish
qahve
; see
coffee
.
---
cafeteria

Noun
(plural cafeterias)
A restaurant in which customers select their food at a counter then carry it on a tray to a table to eat
A dining area in an institution where meals may be purchased (as above) or brought in from elsewhere
Origin
(Mid 19th or 20th century) American Spanish cafetería, coffeehouse, from cafetera, coffee maker, from French cafetière, from café, from Turkish kahve, from Arabic قهوة (qahwa, "coffee")
See also:
cafetería
---