noun
The definition of coffee is a drink made from ground and roasted beans from a tropical shrub or a color that looks like this drink mixed with milk.

A drink you order at Starbucks made from roasted ground beans is an example of coffee.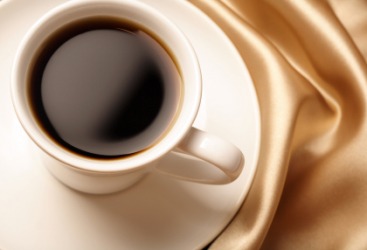 A cup of coffee.
---
coffee definition by Webster's New World
noun
a dark-brown, aromatic drink made by brewing in water the roasted and ground beanlike seeds of a tall tropical shrub (genus Coffea) of the madder family
these seeds, found in the red berries of the shrub
the shrub itself
the color of coffee containing milk or cream; light brown
a reception or social gathering at which coffee, tea, etc. are served, esp. one held for the purpose of promoting a cause or introducing a political candidate
Origin: Italian caffè ; from Turkish qahwe ; from Arabic qahwa, coffee, said to be after Kaffa, area in Ethiopia, home of the plant
Webster's New World College Dictionary Copyright © 2010 by Wiley Publishing, Inc., Cleveland, Ohio. Used by arrangement with John Wiley & Sons, Inc.
---
coffee definition by American Heritage Dictionary
noun
a. Any of various tropical African shrubs or trees of the genus Coffea, especially C. arabica, widely cultivated in the tropics for their seeds that are dried, roasted, and ground to prepare a stimulating aromatic drink.

b. The beanlike seeds of this plant, enclosed within a pulpy fruit.

c. The beverage prepared from the seeds of this plant.

A moderate brown to dark brown or dark grayish brown.
An informal social gathering at which coffee and other refreshments are served.
Origin: Alteration (influenced by Italian caffè, from Turkish) of Ottoman Turkish qahveh, from Arabic qahwa; see qhw in Semitic roots.
The American Heritage® Dictionary of the English Language, 4th edition Copyright © 2010 by Houghton Mifflin Harcourt Publishing Company. Published by Houghton Mifflin Harcourt Publishing Company. All rights reserved.
---
coffee - Investment & Finance Definition
An agricultural product and one of the most popular drinks in the world. Coffee futures and options are traded on the Coffee, Sugar & Cocoa Exchange (CSCE), which became a subsidiary of the New York Board of Trade in 1998. The coffee futures contract traded on the CSCE calls for delivery of washed Arabica coffee beans which are grown in several Central and South American, Asian, and African countries.