drip

drip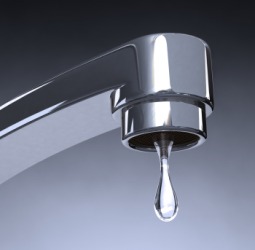 Water about to drip from a faucet.
noun
The definition of a drip is a falling of drops that is often constant in rhythm, or is slang for an unpleasant person.

An example of a drip is a constant flow of drops of water from a sink.
verb
Drip is defined as to fall or cause to fall in drops.

An example of drip is for water to slowly come out of a leaky faucet.
---
drip
intransitive verb
dripped

,

drip′ping
to fall in or as in drops
to let drops of liquid fall
to be so soaked or filled with liquid as to have some trickle down or over
Origin of drip
Middle English
dryppen
from Old English
dryppan
, intensive form ( from Germanic an unverified form
drupjan
), akin to
dreopan
(Ger
triefen
), to drop, drip from Indo-European an unverified form
dhreub-
from base an unverified form
dhreu-
, to break away from source dreary
a falling in drops; trickling
moisture or liquid falling in drops
the sound made by liquid falling in drops

a channel cut on the underside of a sill, cornice, etc. for carrying off rainwater
such a sill, cornice, etc.

Slang

a person regarded as unpleasant or insipid

Med.

a continuous giving of a solution of salt, sugar, etc., esp. intravenously
DRIP
a company-sponsored investment program through which the shareholders may reinvest their dividends and buy additional shares, either occasionally or at regular intervals
Origin of DRIP
d
(
ividend
)
r
(
e
)
i
(
nvestment
)
p
(
lan
)
---
drip
verb
dripped, drip·ping, drips
verb
intransitive
To fall in drops: Water is dripping from that leaky faucet.
To shed drops: an umbrella that is dripping all over the floor.
To ooze or be saturated with or as if with liquid: a speech that dripped with sarcasm.
verb
transitive
To let fall in or as if in drops: a brush dripping paint; a speech that dripped invective.
noun
The process of forming and falling in drops.

a. Liquid or moisture that falls in drops.

b. A slight intermittent flow or leak: fixed the drip in the faucet.

See drip feed.
The sound made by liquid falling in drops: listened to the steady drip of the rain.
A projection on a cornice or sill from which rainwater can drip, protecting the wall below.
Slang A tiresome or annoying person.
Origin of drip
Middle English
drippen
; see
dhreu-
in Indo-European roots.
---
drip

Verb
(third-person singular simple present drips, present participle dripping, simple past and past participle dripped)
(intransitive) To fall one drop at a time.

Listening to the tap next door drip all night drove me mad!

To let fall in drops.

After putting oil on the side of the salad, the chef should drip a little vinegar in the oil.
My broken pen dripped ink onto the table.

(intransitive, usually with with) To have a superabundance of valuable things.

The Old Hall simply drips with masterpieces of the Flemish painters.
The duchess was dripping with jewels.

(intransitive, of the weather) To rain lightly.

The weather isn't so bad. I mean, it's dripping, but you're not going to get so wet.
Noun
(plural drips)
A drop of a liquid.

I put a drip of vanilla extract in my hot cocoa.

(medicine) An apparatus that slowly releases a liquid, especially one that releases drugs into a patient's bloodstream (an intravenous drip).

He's not doing so well. The doctors have put him on a drip.

(colloquial) A limp, ineffectual, boring or otherwise uninteresting person.

He couldn't even summon up the courage to ask her name... what a drip!
---
drip - Investment & Finance Definition
---