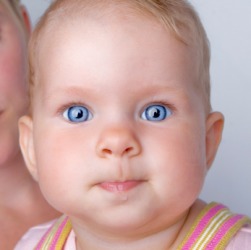 A baby with drool or drivel coming from her lip.
noun
Drivel is defined as drool, or communication that is silly, foolish or meaningless nonsense.

An example of drivel is idle and untrue gossip about celebrities or conversations about the weather that have no meaning or purpose.
---
drivel
intransitive verb
-·eled

or

-·elled

,

-·el·ing

or

-·el·ling
to let saliva flow from one's mouth; drool; slobber
to speak in a silly or stupid manner
Origin of drivel
Middle English
drivelen
from Old English
dreflian
, to slobber, probably akin to draff
to say in a silly or stupid manner
Now Rare

saliva running from the mouth
silly, stupid talk; childish nonsense; twaddle
---
drivel
verb
driv·eled, driv·el·ing, driv·els,
or
driv·elled
driv·el·ling
verb
intransitive
To slobber; drool.
To flow like spittle or saliva.
To talk stupidly or childishly.
verb
transitive
To allow to flow from the mouth.
To say (something) stupidly.
noun
Saliva flowing from the mouth.
Stupid or senseless talk.
Origin of drivel
Middle English
drevelen
from
Old English
dreflian
Related Forms:
---
drivel

Verb
(third-person singular simple present drivels, present participle driveling or drivelling, simple past and past participle driveled or drivelled)
To talk nonsense; to talk senselessly.
To be weak or foolish; to dote.
Origin
From Old English dravelen, drabelen, drevelen, drivelen, to slaver.
---