noun
The definition of froth is foam or foaming bubbles.

An example of froth is the bubbles at the top of a poured beer.
verb
Froth is defined as to make foam.

An example of froth is using a steam wand to make foam on the top of milk.
YourDictionary definition and usage example. Copyright © 2013 by LoveToKnow Corp.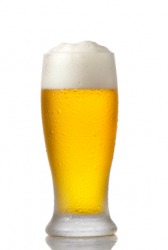 Froth on a glass of beer.
Licensed from iStockPhoto
---
noun
a whitish mass of bubbles; foam
foaming saliva caused by disease or great excitement
light, trifling, or worthless talk, ideas, etc.
Origin: Middle English frothe ; from Old Norse frotha, akin to Old English (a)-freothan, to froth up ; from Indo-European an unverified form preu-th, a snorting, slavering ; from base an unverified form per-, to sprinkle, scatter from source Classical Greek prēmainein, to blow hard
transitive verb
to cause to foam
to cover with foam
to spill forth like foam
Origin: < the n.
intransitive verb
to produce froth; foam
Origin: ME frothen
Webster's New World College Dictionary
Copyright © 2010 by Wiley Publishing, Inc., Cleveland, Ohio.
Used by arrangement with John Wiley & Sons, Inc.
---
noun
A mass of bubbles in or on a liquid; foam.
Salivary foam released as a result of disease or exhaustion.
Something unsubstantial or trivial.
A fit of resentment or vexation: was in a froth over the long delay.
verb
also
frothed
,
froth·ing
,
froths
verb
, transitive
To cover with foam.
To cause to foam.
verb
, intransitive
To exude or expel foam.
Origin: Middle English, from Old Norse frodha.
The American Heritage® Dictionary of the English Language
, 4th edition Copyright © 2010 by Houghton Mifflin Harcourt Publishing Company. Published by Houghton Mifflin Harcourt Publishing Company. All rights reserved.