froth

froth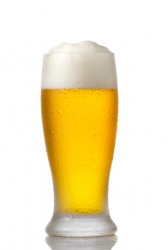 Froth on a glass of beer.
noun
The definition of froth is foam or foaming bubbles.

An example of froth is the bubbles at the top of a poured beer.
verb
Froth is defined as to make foam.

An example of froth is using a steam wand to make foam on the top of milk.
---
froth
a whitish mass of bubbles; foam
foaming saliva caused by disease or great excitement
light, trifling, or worthless talk, ideas, etc.
Origin of froth
Middle English
frothe
from Old Norse
frotha
, akin to Old English
(a)-freothan
, to froth up from Indo-European an unverified form
preu-th
, a snorting, slavering from base an unverified form
per-
, to sprinkle, scatter from source Classical Greek
pr?mainein
, to blow hard
to cause to foam
to cover with foam
to spill forth like foam
Origin of froth
< the
n
.
to produce froth; foam
Origin of froth
ME
frothen
---
froth
noun
A mass of bubbles in or on a liquid; foam.
Salivary foam released as a result of disease or exhaustion.
Something unsubstantial or trivial: "The frivolous side of the Sixties—fashion, pop culture, sex—should not be dismissed as mere froth and show" ( Tony Judt )
High prices unwarranted by economic fundamentals: a housing market with a lot of froth.
A fit of anger or vexation: was in a froth over the long delay.
verb
frothed, froth·ing, froths
verb
transitive
To cover with foam.
To cause to foam.
verb
intransitive
To exude or expel foam: a dog frothing at the mouth.
Origin of froth
Middle English
from
Old Norse
frodha
---
froth

Noun
(countable and uncountable, plural froths)
foam

Froth is a very important feature of many types of coffee.

(figuratively) unimportant events or actions; drivel

Thousands of African children die each day: why do the newspapers continue to discuss unnecessary showbiz froth?
Verb
(third-person singular simple present froths, present participle frothing, simple past and past participle frothed)
To create froth in.

I like to froth my coffee for ten seconds exactly.

(intransitive) To bubble.

The chemical frothed up when I added the acid.

To spit, vent, or eject, as froth.
To cover with froth.

A horse froths his chain.
Origin
Noun attested around 1300, from Old Norse froða, from Proto-Germanic *fruþōn; Old English afreoðan ("to froth") is from same Germanic root. Verb attested from late 14th century.
---