foam

foam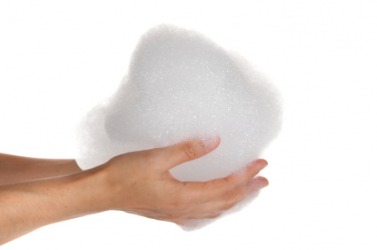 A handful of soap foam.
noun
The definition of foam is a thick frothy lather of bubbles.

An example of foam is the white bubbles at the top of a freshly poured glass of beer.
An example of foam is foamy saliva produced by physical exertion.
---
foam
the whitish mass of bubbles formed on or in liquids by agitation, fermentation, etc.
something like foam, as the heavy sweat of horses, or frothy saliva

Old Poet.

the sea
a kind of colloid in which a gas is suspended in a liquid or solid matter, having a texture ranging from soft and liquid, as whipped cream, to firm and elastic, as foam rubber
Origin of foam
Middle English
fom
from Old English
fam
, akin to German
feim
, scum from Indo-European base an unverified form
(s)poimno-
, foam from source Sanskrit
ph?na-
, Classical Latin
spuma
to form, produce, or gather foam; froth
---
foam
noun
A colloidal dispersion of a gas in a liquid or solid medium, such as shaving cream, foam rubber, or a substance used to fight fires. A foam may be produced, especially on the surface of a liquid, by agitation or by a chemical reaction, such as fermentation.
Any of various light, porous, semirigid or spongy materials, usually the solidified form of a liquid full of gas bubbles, used as a building material or for thermal insulation or shock absorption, as in packaging.

a. Frothy saliva produced especially as a result of physical exertion or a pathological condition.

b. The frothy sweat of a horse or other equine animal.

The sea.
verb
foamed, foam·ing, foams
verb
intransitive
To produce or issue as foam; froth.

a. To produce foam from the mouth, as from exertion or a pathological condition.

b. To be extremely angry; rage: was foaming over the disastrous budget cuts.

To teem; seethe: a playground foaming with third graders.
verb
transitive
To cause to produce foam.
To cause to become foam.
Origin of foam
Middle English
fom
from
Old English
fām
---
foam

Noun
(countable and uncountable, plural foams)
A substance composed of a large collection of bubbles or their solidified remains.

He doesn't like so much foam in his beer.
A foam mat can soften a hard seat.
Verb
(third-person singular simple present foams, present participle foaming, simple past and past participle foamed)
To form or emit foam.
---