rubbish

rub·bish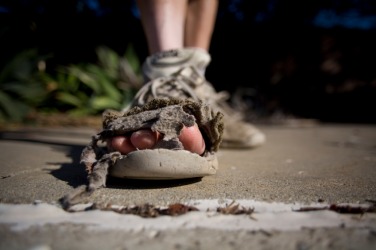 These shoes are rubbish.
noun
Rubbish is defined as garbage or something thrown away, or worthless ideas.

An example of rubbish is a pair of smelly old sneakers that are full of holes.
---
rubbish
any material rejected or thrown away as worthless; trash; refuse
worthless, foolish ideas, statements, etc.; nonsense
Origin of rubbish
Middle English
robous, robys:
ultimately from base of rub
Brit., Informal
trash (transitive verb)
---
rubbish
noun
Refuse; garbage.
Worthless material.
Foolish discourse; nonsense.
Origin of rubbish
Middle English
robishe
---
rubbish

Adjective
(comparative more rubbish, superlative most rubbish)
(chiefly Australia, New Zealand, UK, colloquial) Exceedingly bad; awful; terrible; crappy.

This has been a rubbish day, and it's about to get worse: my mother-in-law is coming to stay.
Interjection
(chiefly Australia, New Zealand, UK, colloquial) Expresses that something is exceedingly bad, terrible or awful.

The one day I actually practice my violin, the teacher cancels the lesson.
Aw, rubbish! Though at least this means you have time to play football...

Expresses that what was recently said is untruth or nonsense.

Rubbish! I did nothing of the sort!
Noun
(uncountable)
(chiefly Australia, New Zealand, UK) Garbage, junk, refuse, waste.

The rubbish is collected every Thursday in Gloucester, but on Wednesdays in Cheltenham.

Nonsense.

Everything the teacher said during that lesson was rubbish. How can she possibly think that a bass viol and a cello are the same thing?

Fragments of buildings; ruins; debris.
Verb
(third-person singular simple present rubbishes, present participle rubbishing, simple past and past participle rubbished)
Origin
Anglo-Norman rubouses, of Unknown origin; presumably ultimately from Proto-Germanic *raub- ("to break") (from whence rob, via meaning "plunder, destroy"). Related to rubble. In verb sense "to criticize", attested 1953 in Australian and New Zealand slang.
---