rubble

rub·ble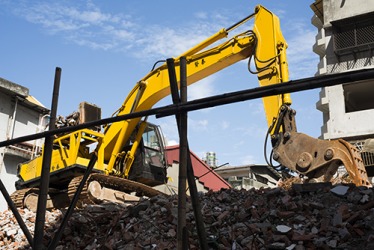 A large pile of rubble has accumulated as a result of the demolition of the building.
noun
Rubble is defined as loose and rough pieces of rock that came from a bigger piece, a structure made from such material, or debris from destroyed buildings.

An example of rubble is a group of loose rock pieces falling off a cliff.
An example of rubble is what is left after a building is bombed.
---
rubble
rough, irregular, loose fragments of rock, broken from larger bodies either by natural processes or artificially, as by blasting
masonry made of rubble; rubblework
debris from buildings, etc., resulting from earthquake, bombing, etc.
Origin of rubble
Middle English
robel;
akin to rubbish, rub
---
rubble
noun
A loose mass of angular fragments of rock or masonry crumbled by natural or human forces.

a. Irregular fragments or pieces of rock used in masonry.

b. The masonry made with such rocks.
Origin of rubble
Middle English
rubel
Related Forms:
---
rubble

Origin
Anglo-Norman *robel ("bits of broken stone"). Presumably related to rubbish, originally of same meaning (bits of stone). Ultimately presumably from Proto-Germanic *raub- ("to break"), perhaps via Old French robe (English rob ("steal")) in sense of "plunder, destroy"; see also Middle English, Middle French -el.
---