noun
Junk is defined as garbage, trash or worthless items, talk or ideas, or to bonds that are unlikely to be paid back to the investor, or is slang for a narcotic drug.

Crumpled up papers and old toys are an example of junk.
Silly reality television shows with no merit to them are an example of junk.
The drug heroin is an example of junk.
A bond issued by a company that is near bankruptcy is an example of a junk bond.
verb
The definition of junk is to throw away or discard.

When you throw away all the items left over after a garage sale, this is an example of when you junk the remaining items.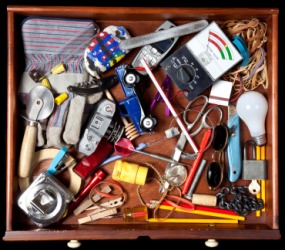 A drawer full of junk.
---
junk definition by Webster's New World
noun
Obsolete

old cable or rope used for making oakum, mats, etc.
old metal, glass, paper, rags, etc., parts of which may be salvageable for reuse

Informal

useless or worthless stuff; trash; rubbish
☆

Slang

a narcotic drug; esp., heroin

Baseball, Slang

low-velocity pitches, esp. slow curve balls
Origin: Middle English jonk ; from uncertain or unknown; perhaps jonk, reed ; from Old French jonc ; from Classical Latin juncus, a rush: see jonquil
transitive verb
☆
Informal
to throw away as worthless or get rid of by selling as junk; discard; scrap
noun
a Chinese or Japanese flat-bottomed ship with a high stern and lugsails or lateen sails
Origin: French jonque ; from Portuguese junco ; from Jav jong ; from Malay adjong
Webster's New World College Dictionary Copyright © 2010 by Wiley Publishing, Inc., Cleveland, Ohio. Used by arrangement with John Wiley & Sons, Inc.
---
junk definition by American Heritage Dictionary
noun
Discarded material, such as glass, rags, paper, or metal, some of which may be reused in some form.
Informal

a. Articles that are worn-out or fit to be discarded: broken furniture and other junk in the attic.

b. Cheap or shoddy material.

c. Something meaningless, fatuous, or unbelievable: nothing but junk in the annual report.

Slang Heroin.
Hard salt beef for consumption on board a ship.
transitive verb
junked
,
junk·ing
,
junks
To discard as useless or sell to be reused as parts; scrap.
adjective
Cheap, shoddy, or worthless: junk jewelry.
Having a superficial appeal or utility, but lacking substance: "the junk issues that have dominated this year's election" (New Republic).
Origin: Middle English jonk, an old cable or rope.
Word History:
The word
junk
is an example of the change in meaning known as generalization, and very aptly too, since the amount of junk in the world seems to be generalizing and proliferating rapidly. The Middle English word
jonk,
ancestor of
junk,
originally had a very specific meaning restricted to nautical terminology. First recorded in 1353, the word meant "an old cable or rope." On a sailing ship it made little sense to throw away useful material since considerable time might pass before one could get new supplies. Old cable was used in a variety of ways, for example, to make fenders, that is, material hung over the side of the ship to protect it from scraping other ships or wharves.
Junk
came to refer to this old cable as well. The big leap in meaning taken by the word seems to have occurred when
junk
was applied to discarded but useful material in general. This extension may also have taken place in a nautical context, for the earliest, more generalized use of
junk
is found in the compound
junk shop,
referring to a store where old materials from ships were sold.
Junk
has gone on to mean useless waste as well.
noun
A Chinese flatbottom ship with a high poop and battened sails.
Origin: Portuguese junco or Dutch jonk, both from Javanese djong, variant of djung, from Old Javanese jong, sea-going ship.
The American Heritage® Dictionary of the English Language, 4th edition Copyright © 2010 by Houghton Mifflin Harcourt Publishing Company. Published by Houghton Mifflin Harcourt Publishing Company. All rights reserved.
---
junk - Computer Definition