clutter

clut·ter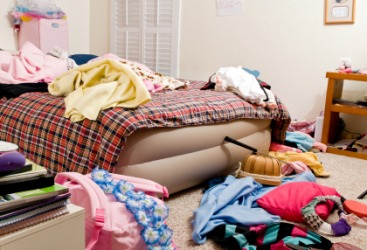 A bedroom with lots of clutter.
noun
The definition of clutter is a lot of disorganized stuff in one place.

A pile of clothes mixed with toys, photos and books is an example of clutter.
verb
Clutter is defined as to make things disorganized.

Dumping everything brought home after a trip out in a pile is an example of to clutter.
---
clutter
a number of things scattered in disorder; jumble

Origin of clutter

var. of clatter

Dial.

clatter
the interference on a radarscope caused by hills, buildings, etc.
Origin of clutter
variant, variety of
clotter
from clot
to put into disorder; jumble: often with up
Dial.
to make a clatter; bustle
---
clutter
noun
A confused or disordered state or collection; a jumble: sorted through the clutter in the attic.
A confused noise; a clatter.
verb
clut·tered, clut·ter·ing, clut·ters
verb
transitive
To fill or spread over in a disorderly manner: Boxes cluttered the garage.
To make disorderly or hard to use by filling or covering with objects: I cluttered up my desk with old memos.
verb
intransitive
To run or move with bustle and confusion.
To make a clatter.
Origin of clutter
Probably from
Middle English
cloteren
to clot
from
clot
lump
from
Old English
clott
---
clutter

Verb
(third-person singular simple present clutters, present participle cluttering, simple past and past participle cluttered)
To fill something with clutter.
To make a confused noise; to bustle.
Origin
Compare Welsh cludair ("heap, pile"), cludeirio ("to heap").
---
clutter - Computer Definition
A secondary inbox in Microsoft Outlook where less relevant mail is placed. After analyzing the content, the message is placed into the Clutter box if it is deemed non-essential to the user. Mail going into Clutter is not considered spam, which would otherwise be filtered into the Junk mailbox. Clutter functions similarly to the multiple inboxes in Gmail (see Gmail tabs). See spam filter.
---