hodgepodge

hodge·podge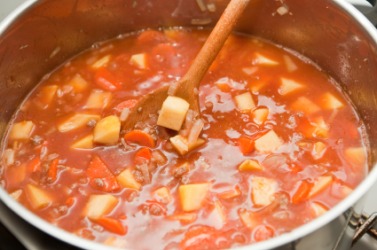 A pot of hodgepodge stew.
noun
The definition of hodgepodge is a jumbled mixture.

An example of hodgepodge is if you have a collection of different buttons.
---
hodgepodge
a kind of stew
any jumbled mixture; mess
Origin of hodgepodge
Middle English
hogpoch
: see hotchpotch
---
hodgepodge
noun
A mixture of dissimilar ingredients; a jumble.
Origin of hodgepodge
Alteration of
Middle English
hochepot
from
Old French
stew
; see
hotchpot
.
---
hodgepodge

Noun
(countable and uncountable, plural hodgepodges)
A collection of miscellaneous things; a jumble.

His latest sculpture is a hodgepodge of kitchen clutter and scrap glued together. In fact, all his recent pieces have been similar hodgepodges.
Origin
From Old French hochepot, from hocher ("to shake") + pot ("pot")
---