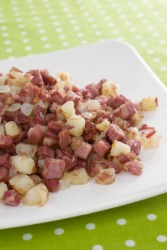 A plate of corned beef hash.
---
hash
transitive verb
to chop (meat or vegetables) into small pieces for cooking

Informal

to make a mess or botch of; bungle
Origin of hash
French
hacher
, to chop, mince: see hachure
noun
a chopped mixture of cooked meat and vegetables, usually baked or browned
a mixture, as of things used before in different forms; rehash
a hodgepodge; muddle; mess
hash out
☆
Informal
to settle or resolve by prolonged discussion
hash over
☆
Informal
to talk over in detail; discuss at length
make (a) hash of
Informal
to bungle; botch
to destroy or defeat (an opponent, argument, etc.)
settle someone's hash
Informal
to overcome or subdue someone
---
hash
noun
A dish of chopped meat, potatoes, and sometimes vegetables, usually browned.

a. A jumble; a hodgepodge.

b. Informal A mess: made a hash of the project.

A reworking or restatement of already familiar material.
transitive verb
hashed
,
hash·ing
,
hash·es
To chop into pieces; mince.
Informal To make a mess of; mangle.
Informal To discuss carefully; review: hash over future plans; hash out a solution.
Origin of hash
Variant of Middle English
hache
, from Old French, past participle of
hacher, hachier
,
to chop up
, from
hache
,
ax
,
of Germanic origin
; see
hatchet
.
noun
Chiefly British
The symbol (#); the pound sign.
Origin of hash
Probably alteration (influenced by
hash
1
) of
hatch
3
.
---
hash
Noun
(plural hashes)
The # symbol (octothorpe, pound).
(computing) The result generated by a hash function.
A new mixture of old material; a second preparation or exhibition; a rehashing.
Adjective
(comparative more hash, superlative most hash)
Hashed, chopped into small pieces
Verb
(third-person singular simple present hashes, present participle hashing, simple past and past participle hashed)
To chop into small pieces, to make into a hash.
To make a quick, rough version

We need to quickly hash up some plans.

(computing) To transform according to a hash function.
---
hash - Computer Definition
---
---