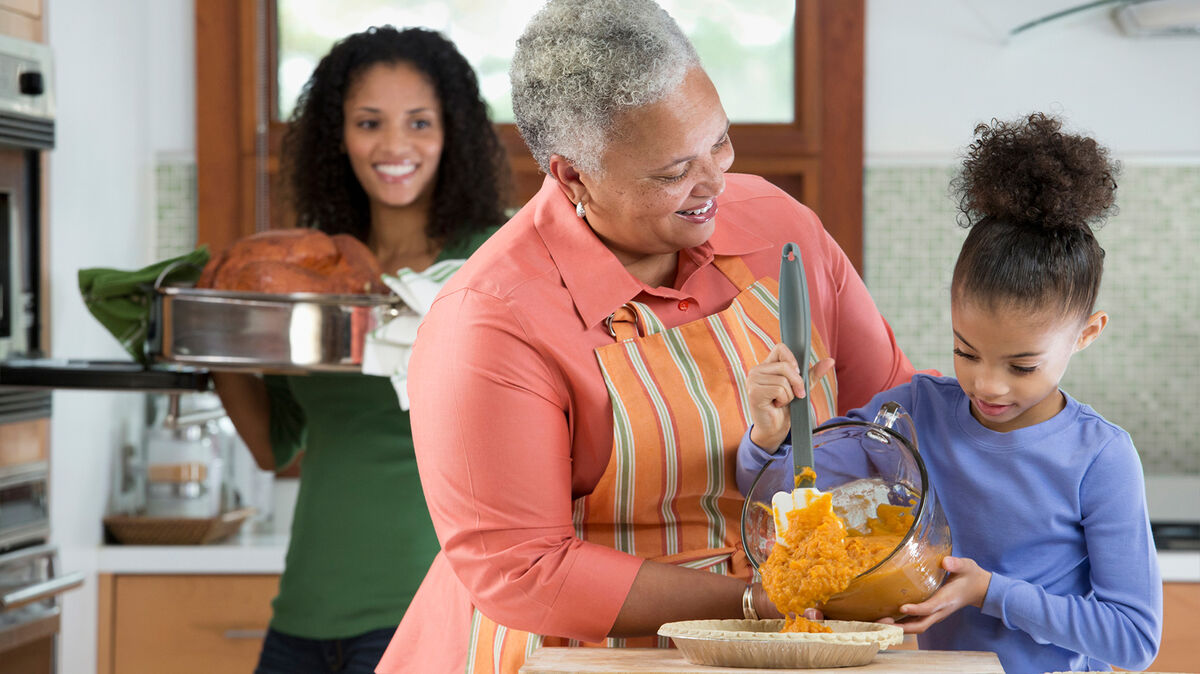 Thanksgiving is a joyous time of year as well as the perfect time to incorporate Thanksgiving word games into your classroom activities. Why not take this time to invent your own word games and explore new vocabulary words that relate to the joy of the season?
Thanksgiving Traditions Word List
Not everyone celebrates Thanksgiving the same way, but there are a number of traditions commonly associated with this holiday.
| | |
| --- | --- |
| appreciation | baking |
| banquet | cards |
| celebration | cooking |
| family | feast |
| festival | football |
| gathering | get-together |
| gratitude | harvest |
| overeating | travel |
Thanksgiving Decorations Vocabulary List
The best Thanksgiving decorations are ones associated with the holiday and paired with an autumn theme.
| | |
| --- | --- |
| autumn | candles |
| centerpiece | chrysanthemums |
| corncob wreaths | cornucopia |
| dried ears of corn | fall floral arrangements |
| fall wreath | Native American figurines |
| leaves | pilgrim figurines |
| pilgrim hats | pumpkins |
| scarecrows | turkey figurines |
List of Thanksgiving Foods
No Thanksgiving word list can be complete without a big list of food selections. From foods reminiscent of the first Thanksgiving to wonderful dishes that celebrate the bountiful harvest of the autumn season, there are many incredible foods associated with Thanksgiving meals and gatherings.
| | |
| --- | --- |
| acorn squash | apple cider |
| apple pie | biscuits |
| butternut squash | candied carrots |
| candied yams | corn |
| corn casserole | corn on the cob |
| corn salad | cornbread |
| cranberry sauce | creamed corn |
| dressing | gravy |
| green bean casserole | ham |
| hash browns | hubbard squash |
| macaroni and cheese | macaroni salad |
| mashed potatoes | pumpkin bread |
| pumpkin pie | roast pumpkin |
| rolls | stuffing |
| sweet potato hash | sweet potatoes |
| three bean salad | turkey |
Thanksgiving Activity Words and Phrases
Thanksgiving celebrations aren't just about eating. Be sure to explore some words and phrases related to popular Thanksgiving activities
| | |
| --- | --- |
| bobbing for apples | counting blessings |
| decorating the house | fall festival |
| family reunion | holiday travel |
| homecoming celebration | meal preparation |
| saying grace | serving dinner |
| setting the table | watching football |
Thanksgiving Feelings and Emotions
Thanksgiving is all about giving thanks. Explore words for the feelings and emotions behind the reason for this seasonal celebration.
| | |
| --- | --- |
| acknowledgement | blessed |
| gratefulness | homage |
| honored | love |
| recognition | reflection |
| thankful | tribute |
Printable Thanksgiving Word List
If you're looking to incorporate Thanksgiving vocabulary words into fun and educational activities for your students or children, this printable list of Thanksgiving vocabulary words is a great starting point. Share it with the kids and encourage them to brainstorm for some other words they might want to add to the list.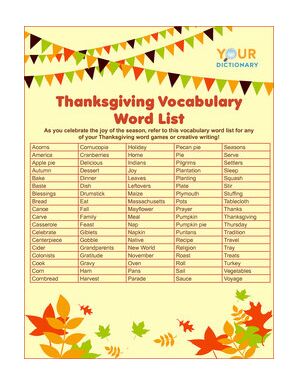 Use Your Thanksgiving Vocabulary Words
This is the perfect opportunity to enjoy some Thanksgiving word games. Once you've built your master vocabulary list, there are endless ways to steep in the joy of the season.
Students will enjoy these games since they're related to the holiday. Also, with the shortened school week that comes with the Thursday holiday, it's helpful to consider games that will keep students invested in the classroom, even though they know their break is on the horizon.
You can always rely on your classic word games, like bingo, hangman, and Scrabble, but you can also branch out into other forms of festivity, including Story Starters, journal prompts, and DIY Thanksgiving cards.
With Story Starters, students are asked to pick at least five vocabulary words listed on their worksheet and use them in the first paragraph of their Thanksgiving short story. You can even encourage students to go beyond five words if the inspiration strikes! Here's a free printable to use as reference: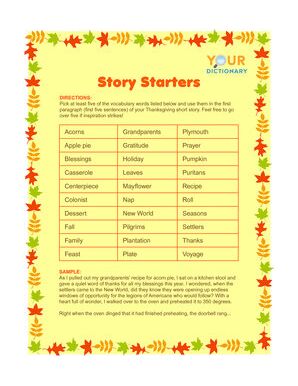 Using Thanksgiving Vocabulary Word Lists
Whether you're looking for a tool to help combine history with a creative writing lesson or Thanksgiving themed art projects and games for kids to play, the printable list and other word lists above can be great resources.
Kid-Friendly Thanksgiving Games
A journaling activity provides a lovely opportunity for kids to practice gratitude. Branch out beyond the basic history of Thanksgiving and use these moments before the school break to foster gratitude.
Ask everyone to take out their classroom journal and create a list of 25 things they're grateful for. Share your own list on the board to get their wheels turning.
Encourage kids to think outside the box, listing everything from the Pop-Tart they had for breakfast, to their parents, to the bicycle they ride on weekends, to Netflix.
Kid-friendly Thanksgiving arts and crafts projects can be another great way to use terms from lists of words related to Thanksgiving. With everyone's heart full of gratitude, roll up your sleeves and prepare to get glitter and glue all over the place!
Building Your Thanksgiving Word Bank
These word lists provide a great way to help children expand their vocabulary related to the Thanksgiving holiday. By reviewing these lists and learning the words, they'll expand their knowledge about what Thanksgiving is all about. Kids will be better able to share their own experiences and traditions with each other and with other members of their family. To further explore language related to this important holiday, review this collection of Thanksgiving sayings.