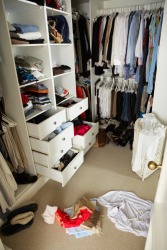 This closet is in disarray.
noun
Disarray is defined as a state of chaos or disorganization.

When everything is a total mess, this is an example of disarray.
verb
To throw something off and cause it to become chaotic is the definition of disarray.

When you are late for an appointment and you throw the entire appointment schedule off for the day, this is an example of a time when you disarray.
---
disarray
to throw into disorder or confusion; upset

Archaic

to undress
Origin of disarray
Middle English
disaraien
from Old French
desareer
: see dis- and array
an untidy condition; disorder; confusion
a state of disorderly or insufficient dress
Origin of disarray
ME
disarai
< OFr
desarroi
---
disarray
noun
A state of disorder; confusion.
Disorderly dress.
transitive verb
dis·ar·rayed, dis·ar·ray·ing, dis·ar·rays
To throw into confusion; upset.
To undress.
---
disarray

Verb
(third-person singular simple present disarrays, present participle disarraying, simple past and past participle disarrayed)
To throw into disorder; to break the array of.
To take off the dress of; to unrobe.
Noun
(plural disarrays)
Confused attire; undress; dishabille.
Origin
From Middle English disareyen ("to disarray"), from Middle French desarroyer, from Old French desareer, from des- 'dis-' + areer 'to array'
---