radar
[rā′där′]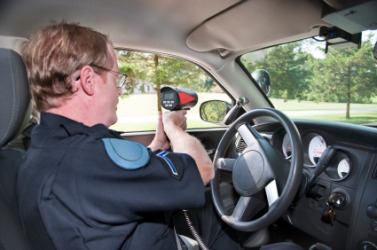 A policeman using a radar gun.
noun
Radar is a device that uses reflected radio waves to detect the position or movement of a person or thing.

An example of radar is the device highway patrol officers use to detect people who are driving too fast.
---
radar
☆
noun
any of several systems or devices using transmitted and reflected radio waves for detecting a reflecting object, as an aircraft, and determining its direction, distance, height, or speed, or in storm detection, mapping, navigation, etc.
Origin of radar
ra(dio) d(etecting) a(nd) r(anging)
---
radar
noun
A method of detecting distant objects and determining their position, velocity, or other characteristics by analysis of very high frequency radio waves reflected from their surfaces.
The equipment used in such detection.
Origin of radar
ra(dio) d(etecting) a(nd) r(anging)
.
radar
---
radar
---
radar - Computer Definition
A microwave radio technology that uses reflected energy to detect and determine the direction of and distance to remote objects. Multiple return signals can be correlated over time to determine the velocity and direction of moving objects. Applications include navigation, targeting, and tracking for civilian and military purposes. See also microwave, radio, and sonar.
---
(RAdio Detection And Ranging) A method of determining the location and speed of an object. Radar works by transmitting signals and measuring the time it takes for them to bounce off the targeted object and return. See Doppler radar and LIDAR.
---