rummage

rum·mage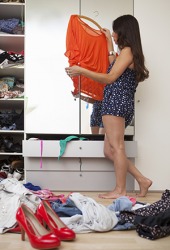 Jolene rummaged through her closet to find the perfect outfit to wear on her date.
verb
To rummage is to look through something, especially an untidy pile of something.

When you look through your messy closet to find a shirt, this is an example of a situation where you rummage through your closet.
---
rummage
miscellaneous articles; odds and ends
a rummaging, or thorough search
Origin of rummage
aphetic from Middle French
arrumage
from
arrumer,
to stow cargo in the hold from
aruner,
to arrange from
run, rum,
ship's hold from Frankish an unverified form
rum,
akin to Old English
rum,
room
transitive verb
-·maged

,

-·mag·ing
to search through (a place, receptacle, etc.) thoroughly, esp. by moving the contents about, turning them over, etc.; ransack
to get, find, or turn up by or as by searching thoroughly: with up or out
to search diligently, now sometimes haphazardly, as through the contents of a receptacle
---
rummage
verb
rum·maged, rum·mag·ing, rum·mag·es
verb
transitive
To search thoroughly by handling, turning over, or disarranging the contents of.
To discover by searching thoroughly.
verb
intransitive
To make an energetic, usually hasty search.
noun
A thorough search among a number of things.
A confusion of miscellaneous articles.
Origin of rummage
From
earlier
romage
act of packing cargo
from
French
arrumage
from
Old French
from
arumer
to stow
from
Old Provençal
arumar
a-
to
(
from
Latin
ad-
; see
ad-
. )
perhaps
run
ship's hold
(
of Germanic origin
; see
reuə-
in Indo-European roots.)
Related Forms:
---
rummage

Verb
(third-person singular simple present rummages, present participle rummaging, simple past and past participle rummaged)
(nautical) To arrange (cargo, goods, etc.) in the hold of a ship; to move or rearrange such goods.
(nautical) To search a vessel for smuggled goods.

After the long voyage, the customs officers rummaged the ship.

To search something thoroughly and with disregard for the way in which things were arranged.

She rummaged her purse in search of the keys.
The burglars rummaged the entire house for cash and jewellery.

(intransitive) To hastily search for something in a confined space and among many items by carelessly turning things over or pushing things aside.

She rummaged in the drawers trying to find the missing sock.
Noun
(plural rummages)
A thorough search, usually resulting in disorder.
An unorganized collection of miscellaneous objects; a jumble.
Origin
Old French arrumage (confer French arrimage), from arrumer ("to arrange the cargo in the hold") (confer French arrimer and Spanish arrumar).
---