debris
[də brē′; also dā′brē′, dā′brē′; chiefly Brit deb′rē]
noun
Debris is defined as the remains of something broken, thrown away or destroyed.

An example of debris is broken glass left in the road after a car accident.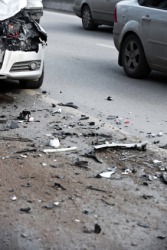 Debris in the road after a car crash.
---
debris definition by Webster's New World
or débris
noun
rough, broken bits and pieces of stone, wood, glass, etc., as after destruction; rubble
bits and pieces of rubbish; litter
pl. debris a heap of rock fragments, as that deposited by a glacier
Origin: French débris ; from Old French desbrisier, to break apart: see de- and amp; bruise
Webster's New World College Dictionary Copyright © 2010 by Wiley Publishing, Inc., Cleveland, Ohio. Used by arrangement with John Wiley & Sons, Inc.
---
debris definition by American Heritage Dictionary
also dé·bris
noun
a. The scattered remains of something broken or destroyed; rubble or wreckage.

b. Carelessly discarded refuse; litter.

Geology An accumulation of relatively large rock fragments: glacial debris.
Biology The fragmented remains of dead or damaged cells or tissue.
Origin: French débris, from Old French debrisier, to break to pieces : de-, intensive pref.; see de- + brisier, to break (from Vulgar Latin *brīsāre, to press grapes, probably of Celtic origin).
debris
Variant of debris
or débris
noun
rough, broken bits and pieces of stone, wood, glass, etc., as after destruction; rubble
bits and pieces of rubbish; litter
pl. debris a heap of rock fragments, as that deposited by a glacier
Origin: French débris ; from Old French desbrisier, to break apart: see de- and amp; bruise