noun
The definition of a weep is a time of excessive crying or emotion.

An example of a weep is a set of hours spent crying over a lost job.
verb
Weep is defined as to cry or express grief.

An example of weep is to cry for hours over the death of a loved one.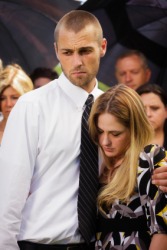 A couple weep at a funeral.
---
weep definition by Webster's New World
intransitive verb
wept, weeping
to manifest or give expression to a strong emotion, usually grief or sorrow, by crying, wailing, or, esp., shedding tears
to lament or mourn: with for or over
to let fall drops of water or other liquid; esp., to drop moisture condensed from the air: cold pipes weep in hot weather
to exude water or other liquid: wounds, plant stems, etc. weep
Origin: Middle English wepen ; from Old English wepan, akin to wop, outcry, Gothic wōpjan, Old Saxon wōpian ; from Indo-European base an unverified form wab-, to cry, complain from source Old Church Slavonic vabiti, to call to
transitive verb
to weep for; lament; bewail; mourn: to weep one's misfortune
to shed (tears or other drops of liquid)
to bring to a specified condition by weeping: to weep oneself to sleep
noun
a fit of weeping
an exudation or dripping of moisture
Webster's New World College Dictionary Copyright © 2010 by Wiley Publishing, Inc., Cleveland, Ohio. Used by arrangement with John Wiley & Sons, Inc.
---
weep definition by American Heritage Dictionary
verb
wept
wept
,
weep·ing
,
weeps
verb
, transitive
To shed (tears) as an expression of emotion: weep bitter tears of remorse.
To express grief or anguish for; lament: wept the death of the child.
To bring to a specified condition by weeping: She wept herself into a state of exhaustion.
To exude or let fall (drops of liquid): "cuts the jellied milk into tiny, soft curds that weep whey" (Kit Snedaker).
verb
, intransitive
To express emotion, such as grief or sadness, by shedding tears. See Synonyms at cry.
To mourn or grieve: wept for the dead.
To emit or run with drops of liquid: a sore that weeps.
noun
A period or fit of weeping. Often used in the plural.
Origin: Middle English wepen, from Old English wēpan.