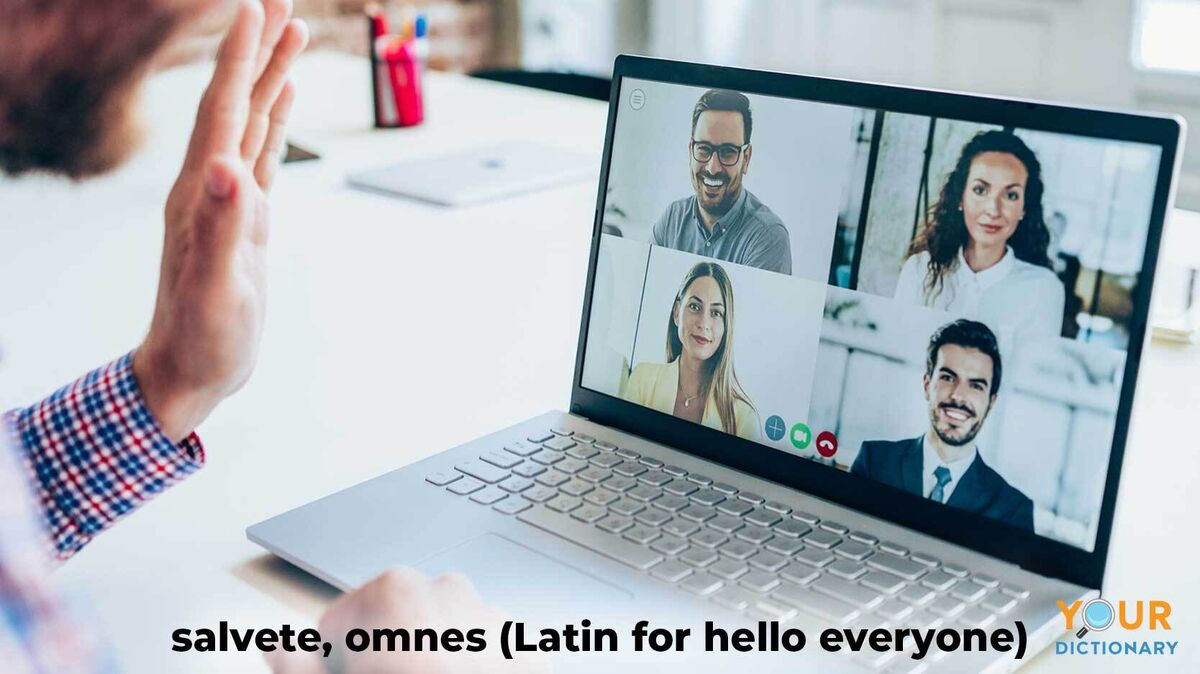 Salvete, omnes! That's "hello everyone" or "hey, y'all" in Latin. You may have heard Latin is a dead language. Not so! Latin is fundamental to the vocabulary of millions of people. Even leaving aside Italian, Spanish, French, and all the other languages that evolved directly from Latin, many English words have their roots in the tongue of ancient Rome. Discover a great list of Latin vocabulary words, organized by part of speech.

As you browse our list of Latin adjectives, you may have a bit of a familiar feeling. By various estimates, anywhere between 20 and 60 percent of English vocabulary comes straight from Latin. See how many derivatives you can pick out in the following Latin word list! (If you need a quick refresher on telling adverbs from adjectives, our examples of parts of speech are standing by.)
bardus - slow, dull
brevis - short, brief
comminus - in close combat
electus - chosen
extremus - last, extreme
gravatus - sick, ill
gravis - heavy, serious, important, grievous
hodiernus - of today
honorabilis - respectful
idoneus - proper, fitting, capable
ignarus - ignorant
ignavus - lazy, inert, sluggish, a coward
ignotus - unknown, obscure, ignorant
immortalis - immortal
incorruptus - genuine, pure
liquidus - fluid, liquid, flowing
prudens - prudent, wise
regius - royal, regal
rusticus - rustic, rural
salvus - safe, sound
serius - serious, grave
simplex - simple
tersus - clean, neat
tutis - protected, safe, secure
vetus - old
As in English, Latin adverbs are mostly adjectives with a special suffix at the end. Latin takes off the ending and adds -e. English does much the same with -ly. Happening in a happy way? That's "happily." Going down fast? That's "quickly." However, there are some unusual Latin adverbs you'll want to memorize, because, like English, the weird adverbs are the important ones. Bene comes up every bit as often as the English word "well."
bene - well
benigne - kindly, generously
cras - tomorrow
deinde - next, thereafter
eminus - from a distance
graviter - seriously
heri - yesterday
hodie - today
pariter - equally, as well
quoque - also, too
quotiens - often
semper - always, ever
serio - seriously
velociter - quickly, swiftly
vero - in truth, indeed, to be sure
A frankly absurd number of English nouns come from Latin. It's a good rule of thumb that if an English word is longer than two syllables, there's a good chance it's from Latin, Greek or both. Yes, both: Latin borrowed many Greek words, then English pillaged Latin.
Examples of Latin nouns that start with the letters "a" through "f" include:
abbas - father
abbatia - monastery
basium - kiss
benevolentia - benevolence, good will
caelum - sky, heaven
calamitas - calamity, disaster
campana - bell
caput - head, summit, top
carmen - poem, song
commissum - undertaking, that which is entrusted
delectatio - delight, enjoyment
dux - leader, general, commander, duke
ecclesia - church
episcopus - bishop
epistula - letter, message
eventus - consequence, result, experience
famulus - servant
fides - promise, engagement, word of honor
flamma - flame, fire
frigus - cold, winter, indolence
Latin nouns starting with the letters "g" through "l" include:
gaudium - joy, happiness, delight
gloria - fame, glory
gravitas - weight, importance
hereditas - inheritance
hora - hour, time
hypocrita - hypocrite
ictus - blow, bite, thrust
ignis - fire
inceptum - beginning, attempt
juvenis - youth, young man
labor - labor, work
limen - threshold
lingua - language, speech
linteum - linen, napkin
ludio - actor, player
ludus - game, sport
lues - pestilence, calamity
lux - light
luxuria - luxury, opulence
Latin nouns that begin with the letters "m" through "o" include:
mane - morning
mare - sea
maritus - husband
mater - mother
materia - material, matter
matertera - maternal aunt
matrimonium - marriage
memoria - memory, remembrance, recall
missa - holy mass
monachus - monk
mundus - world, universe
natio - nation, people
natura - nature
nefas - wrong, sin
nihilum - nothing
novitas - newness, novelty
opera - work, labor
oratio - speech, oration
Latin nouns that start with the letters "p" through "x" include:
palma - palm
pater - father
pax - peace
placitum - judgment, case, plea
plorator - lamenter
ploratus - weeping, lamenting
pluvia - rain, shower
pluma - feather, pen
pulpa - flesh
rectum - virtue, right
sacrificum - sacrifice
sapientia - wisdom
sermo - discussion, talk, conversation
servitus - slavery
spes - hope
synagoga - synagogue
tabellae - letter, document
tempestas - storm, weather
umbra - shade, shadow
uxor - wife, spouse
vestigium - footstep, trace, mark
vita - life
voluptas - pleasure
xiphias - swordfish
English verbs don't derive from Latin quite so often as nouns do. That's because Latin is inflected and English isn't. That is, Latin indicates what's going on with a verb by its ending, while English generally does so by its place in the sentence.
Latin verbs that begin with the letters "a" through "f" include:
abduco - to take away
adduco - to lead
aegresco (also spelled "egresco") - to fall ill, to become troubled
capto - to grab, try to get
comminuo - to scatter, weaken, damage
commisceo - to intermingle, join, mix
decerno - to decide, to settle
defaeco - to cleanse, to purify
degusto - to taste
disputo - to discuss
dormio - to sleep, nap, siesta
exerceo - to train, to exercise, to practice
exspecto - to look for, to await
exstinguo - to extinguish, to put out
exulto - to exult, be joyful
facio - to do, to make
Latin verbs starting with the letters "g" through "m" include:
gusto - to taste
ignoro - to be ignorant of, to not know, to neglect, to overlook
ignosco - to forgive, to pardon
imitor - to imitate
inscribo - inscribe
investigo - to track down, to investigate
lacesso - to harass, to attack
lego - to gather, choose, collect
leto - to kill
libero - to liberate, set free
ligo - to bind
lino - to smear, to dirty
litigo - to quarrel, to have a dispute
ludo - to play, to imitate
macto - to magnify, honor, punish, afflict
maero - to grieve, sorrow
Latin verbs that start with the letters "n" through "v" include:
nego - to deny
novo - to make anew, refresh, invent
offero - to bring forward, place before, present, offer, expose
oro - to speak, to plead, to entreat
pando - to spread out, extend
pario - to bear, bring forth, to produce
ploro - to lament, weep
quaeso (also spelled "queso") - to seek for, ask for
renuo - to deny, to refuse, to reject
sanctifico - to sanctify, make holy
sequor - to follow
sero - to sow, to plant
transeo - to go over, pass over, go past
vado - to hasten, to rush
No Latin word list is complete without a selection of the many prepositions commonly used in the language.
a (ab) - from, by
ad - to, toward
ante - before
circum - around
contra - against
cum - with
de - down from, concerning, on
e (ex) - out of, away from
extra - outside of
in - in, on, into, onto
inter - between
intra - within
ob - on account of
per - through, because of, thanks to
post - after, behind
prae - before, in front of
praeter - beyond, except for
pro - for, on behalf of
propter - on account of
sine - without
sub - under
super - above
trans - across
versus - against
There are several common conjunctions in the Latin language.
a​ut - or

et - and

etiam - also
neque - nor
quamquam - although

quod - because
sed - but
tamen - nevertheless

Latin Dictionaries and Translators
If you're still struggling with bella lingua Latina (the beautiful Latin language), never fear. Nobody's vocabulary is perfect, and there are lots of digital resources to help you out. To begin with, here are some Latin-English translators. They won't do your homework for you, but they're a great way to get past a tough line or two.
As for online dictionaries, a great Latin dictionary available online is by Lewis and Short, available through the Perseus Project or at LatinLexicon.org.

Latin in the 21st Century