verb
Laugh is defined as to express amusement with vocal sounds and facial movements.

An example of laugh is someone making sounds to show they think something is funny.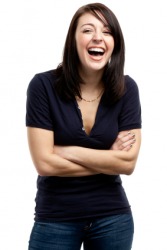 Something has made this woman laugh.
---
laugh
intransitive verb
to make the explosive sounds of the voice, and the characteristic movements of the features and body, that express mirth, amusement, ridicule, etc.
to be amused
to feel or suggest joyousness; appear bright and merry: laughing eyes
Origin of laugh
Middle English
laughen
; from Old English
hleahhan
, akin to German
lachen
(OHG
hlahhan
) ; from Indo-European base an unverified form
klēg-
, to cry out, sound from source Classical Greek
klangē
, Classical Latin
clangor
transitive verb
to express or say with laughter
to bring about, effect, or cause to be by means of laughter: to laugh oneself hoarse
noun
the act or sound of laughing
anything that provokes or is fit to provoke laughter

Informal

mere diversion or pleasure
have the last laugh
to win after apparent defeat and discomfiture
laugh at
to be amused by
to make fun of; ridicule; deride
to be indifferent to or contemptuous of; disregard
laugh away
to get rid of (something unpleasant or embarrassing) by laughter
laugh down
to silence or suppress by laughing
laugh up one's sleeve
to laugh secretly or inwardly
laugh off
to scorn, avoid, or reject by laughter or ridicule
---
laugh
verb
laughed
,
laugh·ing
,
laughs
verb
, intransitive
To express certain emotions, especially mirth or delight, by a series of spontaneous, usually unarticulated sounds often accompanied by corresponding facial and bodily movements.
To show or feel amusement or good humor: an experience we would laugh about later on.

a. To feel or express derision or contempt; mock: I had to laugh when I saw who my opponent was.

b. To feel a triumphant or exultant sense of well-being: You won't be laughing when the truth comes out.

To produce sounds resembling laughter: parrots laughing and chattering in the trees.
verb
, transitive
To affect or influence by laughter: laughed the speaker off the stage; laughed the proposal down.
To say with a laugh: He laughed his delight at the victory.
noun
a. The act of laughing.

b. The sound of laughing; laughter.

Informal Something amusing, absurd, or contemptible; a joke: The solution they recommended was a laugh.
often laughs Informal Fun; amusement: went along just for laughs.
Phrasal Verbs:
laugh at
To treat lightly; scoff at:
a daredevil who laughed at danger.
laugh off (or away)
To dismiss as ridiculously or laughably trivial:
laughed off any suggestion that her career was over.
Origin of laugh
Middle English
laughen
, from Old English
hlæhhan
,
probably ultimately of imitative origin
.
Related Forms:
---
laugh
Noun
(plural laughs)
An expression of mirth particular to the human species; the sound heard in laughing; laughter.

Why would you laugh about that when it's not even funny? You have a twisted sense of humour.

Something that provokes mirth or scorn.
(UK) A fun person.
Verb
(third-person singular simple present laughs, present participle laughing, simple past and past participle laughed)
(intransitive) To show mirth, satisfaction, or derision, by peculiar movement of the muscles of the face, particularly of the mouth, causing a lighting up of the face and eyes, and usually accompanied by the emission of explosive or chuckling sounds from the chest and throat; to indulge in laughter.
1734, Alexander Pope, An Essay on Man, Chapter 3

In Folly's cup ſtill laughs the bubble Joy.

(intransitive, followed by "at") To make an object of laughter or ridicule; to make fun of; to deride; to mock.
To express by, or utter with, laughter.
Usage notes
The simple past tense forms laught, laugh'd and low and the past participles laught, laugh'd and laughen also exist, but are obsolete.
Origin
From Middle English laughen, laghen, from Old English hlehhan, hlæhan, hlihhan, hliehhan ("to laugh, laugh at, deride, rejoice "), from Proto-Germanic *hlahjaną ("to laugh"), from Proto-Indo-European *klek-, *kleg- ("to shout"). Cognate with Scots lauch ("to laugh"), West Frisian laitsje ("to laugh"), Dutch lachen ("to laugh, smile"), German lachen ("to laugh"), Danish le ("to laugh"), Icelandic hlæja ("to laugh"), Albanian qesh ("to laugh") < arc. klêsh, Latin glōcīre ("to cluck"), Latin glattīre ("to yelp"), Latin gliccīre ("to gaggle"), Welsh cloch ("bell"), Ancient Greek κλώσσω (klṓssô, "to cluck"), Old Church Slavonic клєкотъ (klekotŭ, "laughter, noise"), Latin clangō ("scream, sound"). Related to clang.
---