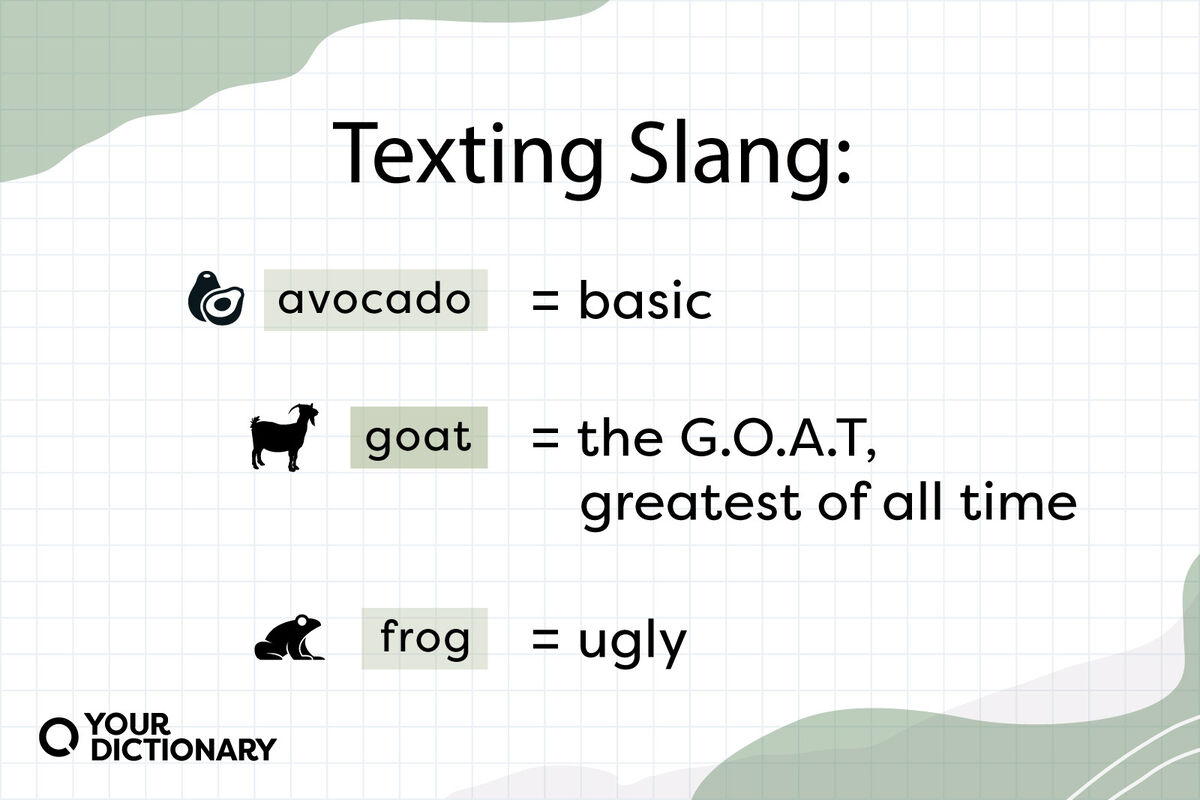 Text slang wasn't always the norm, but it is now. It's been about 20 years since this short form of communication known as texting entered everyday life. Texting involves using a phone, or another device, to send a text message to another mobile device. Explore text language to help you decipher SMS messages and other types of text-based instant messages.
Brief History of Texting Slang
Texting is basically instant messaging for your phone. When texting was first invented, people didn't usually have a full keyboard on their mobile devices. Instead, you had to type your message using the numbers on your phone, each of which is associated with one or more letters.
To save time and energy and avoid carpal tunnel of the thumbs, hundreds of different texting slang, or internet slang, words and texting abbreviations have come into play. The problem is, there are so many, if you don't know them all, you might think someone is speaking a foreign language!
Slang for Texting Words and Phrases
Texting slang involves both symbols and special abbreviations that mean certain things. Check out an alphabetical list of some of the most popular texting slang words and phrases.
A
ABT - About
ABT2 - About to
ACDNT - Accident
ACK - Acknowledge
ACPT - Accept
ADD - Address
ADDY - Address
AEAP - As early as possible
AF - April Fools
AFK - Away from keyboard
AIGHT - Alright
AKA - Also known as
AMAP - As much as possible
AML - All my love
AMOF - As a matter of fact
ASAP - As soon as possible
ATB - All the best
ATEOTD - At the end of the day
ATM - At the moment
AYT - Alright
AYT - Are you there?
B
B2W - Back to work
B4 - Before
BDAY - Birthday
BF - Boyfriend / best friend
BF4L - Best friend for life
BFF - Best friends forever
BLNT - Better luck next time
BM - Bite me
BOYF - Boyfriend
BRB - Be right back
BTW - By the Way
BYOB - Bring your own beer
C
CIAO - Good-bye
CM - Call me
CMB - Call me back
CMON - Come on
CR8 - Create
CTC - Care to chat?
CU - See you
CUA - See you around
CUL - See you later
CUL8R - See you later
CYA - See ya
CYAL8R - See you later
D
DOS - Dad over shoulder
DIY - Do it yourself
DKDC - Don't know, don't care
D/L - Download
DL - Download
DNT - Don't
E
EMA - Email address
EOM - End of message
ETA - Estimated time of arrival
EZ - Easy
EZY - Easy
F
FAQ - Frequently asked questions
FBM - Fine by me
FC - Fingers crossed
FTW - For the win
FW - Forward
FWIW - For what it's worth
FWM - Fine with me
FYEO - For your eyes only
FYA - For your amusement
FYI - For your information
G
G - Giggle
G2CU - Good to see you
G2G - Got to go
G2R - Got to run
GB - Goodbye
GBTW - Get back to work
GBU - God bless you
GF - Girlfriend
GG - Gotta Go
GJ - Good job
GL - Good luck
GLHF - Good luck, have fun
GMTA - Great minds think alike
GN - Goodnight
GNIGHT - Goodnight
GNITE - Goodnight
GR8 - Great
GRATZ - Congratulations
GTG - Got to go
GUD - Good
GUDNYT - Goodnight
H
H8 - Hate
HAK - Hug and kiss
HAU - How about you?
HAV - Have
H&K - Hugs & kisses
H2CUS - Hope to see you soon
HAND - Have a nice day
H-BDAY - Happy Birthday
HF - Have fun
HFAC - Holy flipping animal crackers
HRU - How are you?
HTH - Hope this helps
HUB - Head up butt
HUYA - Head up your a**
HV - Have
HW - Homework
I
IB - I'm back
IBH - I'll be honest
IC - I see
IDC - I don't care
IDK - I don't know
IHNI - I have no idea
IK - I know
IKR - I know, right
ILU - I love you
ILY - I love you
IM - Instant message
IMHO - In my humble opinion
IMO - In my opinion
IMS - I am sorry
IMU - I miss you
IRL - In real life
IUSS - If you say so
J
JAC - Just a sec
JK - Just kidding
JLMK - Just let me know
K
K - Okay
KK - Okay, Okay!
KEWL - Cool
KIT - Keep in touch
KUTGW - Keep up the good work
L
L8R - Later
LLF - Live life to the fullest
LMAO - Laughing my a** off
LMFAO - Laughing my f***ing a** off
LMK - Let me know
LOL - Laugh out loud or lots of love
LTNS - Long time, no see
LUVYA - Love ya
M
MC - Merry Christmas
MOS - Mother over shoulder
MIRL - Meet in real life
MKAY - Mmm, okay
MSG - Message
MTF - More to follow
MUSM - Miss you so much
MWAH - To give a kiss
MYOB - Mind your own business
N
N1 - Nice one
N2M - Nothing too much
NBD - No big deal
NE - Any
NE1 - Anyone
NIMBY - Not in my back yard
NM - Nothing much / never mind
NOYB - None of your business
NP - No problem
NT - Nice try
NVM - Never mind
NVR - Never
NW - No way
O
OB - Oh baby / oh brother
OI - Operator indisposed
OIC - Oh, I see
OJ - Only joking
OM - Oh, my
OMDB - Over my dead body
OMG - Oh my god
OMW - On my way
ONL - Online
OTB - Off to bed
OTL - Out to lunch
OTOH - On the other hand
OVA - Over
P
P2P - Peer to peer
PEEPS - People
PIC - Picture
PL8 - Plate
PLMK - Please let me know
PLS - Please
PLZ - Please
PM - Private Message
POS - Parent over shoulder
POV - Point of view
PPL - People
PROLLY - Probably
PRT - Party
PZ - Peace
Q
QIK - Quick
QL - Quit laughing
QT - Cutie
QTPI - Cutie pie
R
RIP - Rest in peace
RLY - Really
RME - Rolling my eyes
RN - Right now
ROFLOL - Rolling on floor, laughing out loud
RU - Are you?
RUOK - Are you okay?
RX - Regards
S
SBT - Sorry 'bout that
SC - Stay cool
SIT - Stay in touch
SK8 - Skate
SK8NG - Skating
SK8R - Skater
SK8RBOI - Skater Boy
SMH - Shaking my head
SO - Significant other
SOAB - Son of a b****
SOL - Sooner or later
SOS - Meaning help
SRSLY - Seriously
SRY - Sorry
SS - So sorry
STFU - Shut the f*** up
STR8 - Straight
SUL - See you later
SUP - What's up?
SUX - Sucks or it sucks
SYL - See you later
SYS - See you soon
T
TBC - To be continued
TBD - To be determined
TBL - Text back later
TC - Take care
TGIF - Thank God it's Friday
THX - Thanks
THNX - Thanks
TMB - Text me back
TMI - Too much information
TMTH - Too much to handle
TOJ - Tears of joy
TTFN - Ta ta for now
TTLY - Totally
TTUL - Talk to you later
TU - Thank you
TTYL - Talk to you later
TTYS - Talk to you soon
TY - Thank you
U
UFB - Un-f***ing believable
UFN - Until further notice
UL - Upload
U-L - You will
UOK - You ok?
UR - Your / You're
URW - You're welcome
UW - You're welcome
V
VBS - Very big smile
VIP - Very important person
VM - Voicemail
VN - Very nice
VRY - Very
W
W@ - What?
W/ - With
W8 - Wait
WAH - Working at home
WAM - Wait a minute
WAYF - Where are you from?
W/B - Write back
WB - Welcome back
WBU - What about you?
WC - Who cares
W/E - Whatever
W/END - Weekend
WE - Whatever
WIU - Wrap it up
WK - Week
WKD - Weekend
W/O - Without
WRK - Work
WRU@ - Where are you at?
WTF - What the f***
WTG - Way to go
WTH - What the heck? or What the h***?
WTM - Who's the man?
WU - What's up?
WUF - Where you from?
WUP - What's up?
WYA - Where you at?
WYD - What ya doin'?
X
X - Kiss
XME - Excuse Me
XOXOXO - Hugs & Kisses
XLNT - Excellent
Y
Y? - Why?
Y2K - You're too kind
YARLY - Ya, really?
YBS - You'll be sorry
YGG - You go girl
YHU - You
YNK - You never know
YOLO - You only live once
YR - Your / Yeah right
YT - You there?
YW - You're welcome
Z
ZUP - What's up?
ZZZZ - Bored or asleep
Texting Slang Symbols and Emojis
Texting slang goes beyond abbreviations and acronyms to include symbols and images too. It's important to know that some images have secret meanings beyond their appearance.
Emojis have taken texting slang to a whole new level. An image of a simple object doesn't always mean what you first think it might.
avocado = basic or doing whatever's trendy at the moment
frog = ugly
goat = the G.O.A.T, greatest of all time
octopus = cuddles
peach (the fruit) = a butt or the word "but"
snake = backstabber
If you don't have the use of emojis or don't want to use them, you can use common keyboard keys to create emotive symbols.
:) - Smiley face / happy
=) - Happy
:-) - Happy
:( - Sad
=( - Sad
:' ) - Happy Tears
:-* - Kiss
:-D - Laughing
Learning how to write and read texting slang comes in handy for people of all ages across a variety of devices. Now that you've got a basic understanding of text language, you can make sure you're texting what you think you're texting.