seep

seep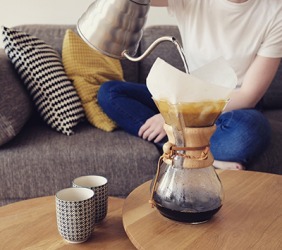 He pours hot water into the filter so that it can slowly seep through the coffee grounds to make a pot of fresh coffee.
noun
The definition of a seep is a place where liquid comes up from the ground and forms a puddle.

An example of a seep is a place in the basement floor from where water comes up every time it rains and makes a puddle.
verb
Seep is defined as to leak or drip.

An example of to seep is for water to slowly creep into a basement.
---
seep
to leak, drip, or flow out slowly through small openings or pores; ooze
Origin of seep
Middle English an unverified form
sipen
from Old English
sipian
, to soak, akin to Middle Low German
s?pen
, to drip from Indo-European base an unverified form
seib-
, to run out, drip from source soap
a place where water, oil, etc. oozes from the ground to form a pool
seepage
---
seep
intransitive verb
seeped, seep·ing, seeps
To pass slowly through small openings or pores; ooze: Water is seeping into the basement.
To enter, depart, or become diffused gradually: The importance of the situation finally seeped into my brain. The news seeped out bit by bit.
noun
A place on land or underwater where a liquid or gas oozes out of the ground.
Origin of seep
Alteration of
dialectal
sipe
---
seep

Noun
(plural seeps)
a small spring, pool, or other place where liquid from the ground (e.g. water, petroleum or tar) has oozed to the surface
moisture that seeps out; a seepage
A seafloor vent
Verb
(third-person singular simple present seeps, present participle seeping, simple past and past participle seeped)
Origin
Variant of sipe, from Middle English sipen, from Old English sipian, from Proto-Germanic *sīpōną, frequentative of *sīpaną (compare Middle Dutch sīpen 'to drip', archaic German seifen 'to trickle blood'), from Proto-Indo-European *seib, *sib- 'to pour out, drip, trickle' (compare Latin sēbum 'suet, tallow', Ancient Greek εἴβω (eíbō) 'to drop, drip').
---