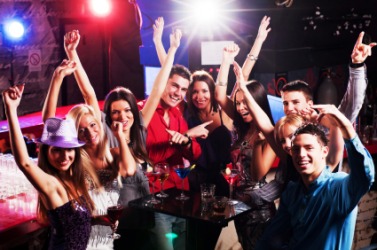 People partying at a nightclub.
---
nightclub
noun
a place of entertainment open at night for eating, drinking, dancing, etc., and usually having a floor show
---
nightclub
noun
An establishment that stays open late at night and provides food, drink, entertainment, and music for dancing. Also called nightspot.
Related Forms:
---
nightclub
Verb
(third-person singular simple present nightclubs, present participle nightclubbing, simple past and past participle nightclubbed)
To visit a nightclub (nightclubs) for entertainment.

Our first night in the big city we went out nightclubbing. The next morning we stayed in hung over.
---