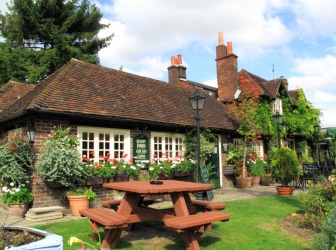 An English country pub.
noun
The definition for pub is a place of business where a large selection of beer, ale, wine and cider are served along with a large selection of meals, appetizers and desserts. Short for Public House in England.

An example of a pub is a place in England that pours the beers and ales of a local brewery.
---
pub
Chiefly Brit.

a bar or tavern
in the U.S., a tavern in traditional English or Irish decor or style
Origin of pub
contr. from public house
public
published (by)
publisher
publishing
---
pub
noun
A place of business serving beer or other alcoholic drinks and often basic meals.
Origin of pub
Short for
public house
pub.
abbreviation
publication
published
publisher
---
pub

Verb
(third-person singular simple present pubs, present participle pubbing, simple past and past participle pubbed)
(intransitive) To go to one or more public houses.
Origin
Short form of public, from public house
Verb
(third-person singular simple present pubs, present participle pubbing, simple past and past participle pubbed)
(informal) to publish
See also:
pub
---