bistro

bis·tro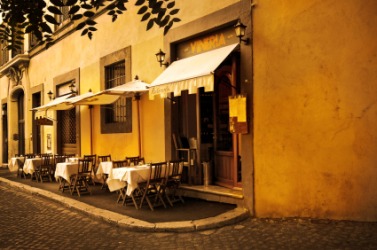 Tables outside a bistro in Rome.
noun
The definition of bistro is a small Parisian-style restaurant that serves simple meals, wine and coffee in a casual, modest setting.

A little cafe with three or four tables that serves casseroles and wine is an example of a bistro.
---
bistro
noun
pl.
-·tros·
a small wine shop or restaurant where wine is served
a small nightclub or bar
Origin of bistro
French (Parisian) slang, wine shop, wine seller from
bistraud,
origin, originally (dial. of Anjou and Poitou), a shepherd from
biste,
goat
---
bistro
noun
pl.
bis·tros
A small, informal restaurant serving wine.
A small bar, tavern, or nightclub.
Origin of bistro
French
bistro
or
bistrot
tavern owner, tavern
---
bistro

Noun
(plural bistros)
A small European-style restaurant.
Origin
Attested from c. 1920, from the French bistro(t) with the original meaning "proprietor of a tavern" (1880s), of Unknown origin, presumably regional French dialect.
---