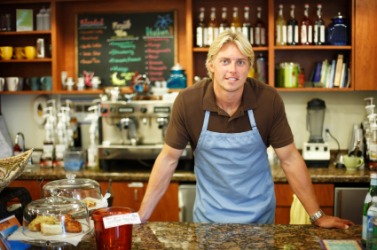 A man standing behind the counter at a coffee shop.
noun
The definition for coffee shop is a place of business where coffee and hot beverages are served along with light snacks.

An example of a coffee shop is the small restaurant on Main Street where locals gather in the morning to catch up on the local news.
---
coffee shop
an informal restaurant, as in a hotel, where light refreshments or meals are served
---
coffee shop
noun
A small restaurant in which coffee and light meals are served.
---
coffee-shop

---