obnoxious

ob·nox·ious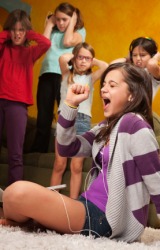 They find her singing obnoxious.
adjective
The definition of obnoxious is someone or something that is very annoying or offensive.

An example of obnoxious is an upstairs neighbor listening to extremely loud music at two o'clock in the morning.
---
obnoxious
exposed or liable to injury, evil, or harm
liable to punishment; censurable

very unpleasant; objectionable; offensive
Origin of obnoxious
Classical Latin
obnoxiosus
from
obnoxius,
subject or exposed to danger from
ob-
(see ob-) +
noxa,
harm from base of
nocere,
to hurt: see necro-
---
obnoxious
adjective
Very annoying or objectionable; offensive or odious: "I know no method to secure the repeal of bad or obnoxious laws so effective as their stringent execution" ( Ulysses S. Grant )
Archaic Exposed or subject to harm, injury, or evil: "Those who are most obnoxious to punishment will flee from the country" ( George Washington )
Archaic Deserving of or liable to censure.
Origin of obnoxious
Latin
obnoxiōsus
subordinate
from
obnoxius
subject, liable
ob-
to
; see
ob-
.
noxa
injury
; see
nek-
1
in Indo-European roots.
Related Forms:
---
obnoxious

Adjective
(comparative more obnoxious, superlative most obnoxious)
Extremely unpleasant, offensive, very annoying, odious or contemptible.

He was an especially obnoxious and detestable specimen of a man.
Throwing stones at the bus is another example of your obnoxious behaviour.

(archaic) exposed to harm or injury.
---