quilt

quilt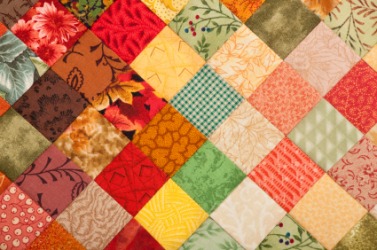 A brightly colored quilt.
noun
The definition of a quilt is a bed covering or blanket made from layers of fabric around a layer of batting with the layers are stitched together in a design or pattern.

A blanket on your bed that contains a decorative series of interlocking square fabric pieces on one side, a batting in the middle for warmth and a flat fabric backing on the other side is an example of a quilt.
verb
To quilt is to stitch and join together different kinds of fabric to create a decorative blanket or bed cover.

When you take a bunch of different squares of fabric and you sew them together in a pretty pattern to make a bed covering, this is an example of when you quilt.
---
quilt
a bedcover made of two layers of cloth filled with down, cotton, wool, etc. and stitched together in lines or patterns to keep the filling in place
anything used as a quilt
anything quilted or like a quilt
Origin of quilt
Middle English
quilte
from Old French from Classical Latin
culcita,
bed, mattress from Indo-European base an unverified form
kwelek-
from source Sanskrit
k?rca?,
bundle, roll
to make or stitch as or like a quilt: to quilt a potholder
to sew up or fasten between two pieces of material
to line or pad with a quiltlike material
to make a quilt or quilts
---
quilt
noun
A coverlet or blanket made of two layers of fabric with a layer of cotton, wool, feathers, or down in between, all stitched firmly together, usually in a decorative design.
A thick protective cover similar to or suggestive of a quilt.
verb
quilt·ed, quilt·ing, quilts
verb
transitive
To make into a quilt by stitching (layers of fabric) together.
To construct like a quilt: quilt a skirt.
To pad and stitch ornamentally.
verb
intransitive
To make a quilt.
To do quilted work.
Origin of quilt
Middle English
quilte
from
Anglo-Norman
from
Latin
culcita
mattress
Related Forms:
quilt
c. 1846-1875 American appliquéd quilt
---
quilt

---