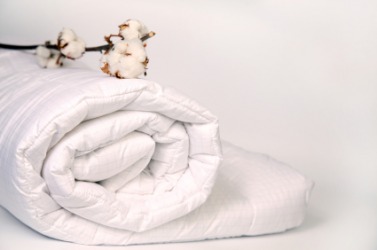 A rolled up duvet.
noun
The definition of a duvet is a soft quilt filled with feathers, down or synthetic materials that has a cover and is used instead of a comforter on a bed.

A down quilt is an example of a duvet.
---
duvet
a style of comforter, often filled with down, having a slipcover and used in place of a top sheet and blankets
---
duvet
noun
A quilt, usually with a washable cover, that may be used in place of a bedspread and top sheet.
Origin of duvet
French
down
from
Old French
alteration of
dumet
diminutive of
dum, dun
from
Old Norse
dūnn
---
duvet

Origin
From French duvet, from Middle French, from Old French duvet ("down, the feathers of young birds"), alteration of dumet, dumect, from Old French dum, dun ("down, feathers"), from Old Norse dúnn ("down, down feather"), from Proto-Germanic *dūnaz ("down"), from Proto-Indo-European *dhūw- ("to smoke, fume, raise dust"). Cognate with Icelandic dúnn ("down"), Danish dun ("down"), German Daune ("down"). More at down.
---