verb
To drive is defined as to operate a vehicle, to be licensed to operate a vehicle or moving something using force.

An example of drive is when you get in your car and go to the store.
An example of drive is when you have a license allowing you to operate a car.
An example of drive is when you hit a golf ball in a certain direction.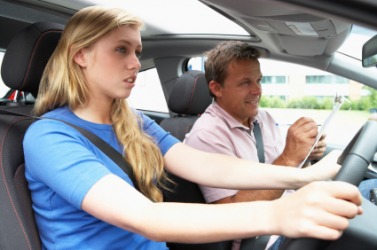 A young girl learning to drive a car.
---
drive definition by Webster's New World
transitive verb
drove, driven, driving
to force to go; urge onward; push forward
to force into or from a state or act: driven mad
to force to work, usually to excess

to force by or as by a blow, thrust, or stroke
to throw, hit, or cast hard and swiftly

Golf

to hit from the tee, usually with a driver

to cause to go through; make penetrate
to make or produce by penetrating: to drive a hole through metal
to control the movement or direct the course of (an automobile, horse and wagon, locomotive, etc.)
to transport in an automobile or other vehicle

to impel or propel as motive power; set or keep going; cause to function: a gasoline engine drives the motorboat
to compel, motivate, influence, direct, etc.: the investigation is driven by political rivalry

to carry on with vigor; push (a bargain, etc.) through

Hunting

to chase (game) from thickets into the clear or into nets, traps, etc.
to cover (an area) in this way
Origin: Middle English driven ; from Old English drifan, akin to Gothic dreiban, German treiben, Old Norse drīfa ; from Indo-European base an unverified form dhreibh-, to push
intransitive verb
to advance violently; dash
to work or try hard, as to reach a goal
to drive a blow, ball, missile, etc.
to be driven; operate: said of a motor vehicle
to go or be conveyed in a vehicle
to operate a motor vehicle
noun
the act of driving
a trip in a vehicle

a road for automobiles, etc.
a driveway

☆

a rounding up or moving of animals on foot for branding, slaughter, etc.
the animals rounded up or moved

a hard, swift blow, thrust, etc., as of a ball in a game

Golf

a shot from the tee, usually with a driver

☆

an organized movement to achieve some purpose; campaign
a large-scale military offensive to gain an objective

Football

a series of plays that advances the ball toward the opponent's goal, usually resulting in a field goal or touchdown

☆ the power or energy to get things done; enthusiastic or aggressive vigor
that which is urgent or pressing; pressure
☆ a collection of logs being floated down a river to a sawmill

any apparatus that transmits power in a motor vehicle: a gear drive
that arrangement in an automatic transmission of a motor vehicle which allows movement forward at varying speeds

a device that communicates motion to a machine or machine part

Comput.

a unit that reads and writes data on magnetic tape, a disk, etc.

Psychol.

any of the basic biological impulses or urges, such as self-preservation, hunger, sex, etc.
Webster's New World College Dictionary Copyright © 2010 by Wiley Publishing, Inc., Cleveland, Ohio. Used by arrangement with John Wiley & Sons, Inc.
---
drive definition by American Heritage Dictionary
verb
drove
drove
,
driv·en
,
driv·ing
,
drives
verb
, transitive
To push, propel, or press onward forcibly; urge forward: drove the horses into the corral.
To repulse or put to flight by force or influence: drove the attackers away; drove out any thought of failure.
To guide, control, or direct (a vehicle).

a. To convey or transport in a vehicle: drove the children to school.

b. To traverse in a vehicle: drive the freeways to work.

a. To supply the motive force or power to and cause to function: Steam drives the engine.

b. To cause or sustain, as if by supplying force or power: "The current merger mania is apparently driven by an urge . . . to reduce risk or to exploit opportunities in a very rapidly changing business environment" (Peter Passell).

To compel or force to work, often excessively: "Every serious dancer is driven by notions of perfection—perfect expressiveness, perfect technique" (Susan Sontag).
To force into or from a particular act or state: Indecision drives me crazy.
To force to go through or penetrate: drove the stake into the ground.
To create or produce by penetrating forcibly: The nail drove a hole in the tire.
To carry through vigorously to a conclusion: drove home his point; drive a hard bargain.

a. Sports To throw, strike, or cast (a ball, for example) hard or rapidly.

b. Basketball To move with the ball directly through: drove the lane and scored.

c. Baseball To cause (a run or runner) to be scored by batting. Often used with in.

a. To chase (game) into the open or into traps or nets.

b. To search (an area) for game in such a manner.
verb
, intransitive
To move along or advance quickly as if pushed by an impelling force.
To rush, dash, or advance violently against an obstruction: The wind drove into my face.
To operate a vehicle, such as a car.
To go or be transported in a vehicle: drove to the supermarket.

a. Sports To hit, throw, or impel a ball or other missile forcibly.

b. Basketball To move directly to the basket with the ball.

To make an effort to reach or achieve an objective; aim.
noun
The act of driving.
A trip or journey in a vehicle.
Abbr. Dr. A road for automobiles and other vehicles.

a. The means or apparatus for transmitting motion or power to a machine or from one machine part to another.

b. The position or operating condition of such a mechanism: "He put his car into drive and started home" (Charles Baxter).

c. The means by which automotive power is applied to a roadway: four-wheel drive.

d. The means or apparatus for controlling and directing an automobile: right-hand drive.

Computer Science A device that reads data from and often writes data onto a storage medium, such as a floppy disk.
A strong organized effort to accomplish a purpose. See Synonyms at campaign.
Energy, push, or aggressiveness.
Psychology A strong motivating tendency or instinct related to self-preservation, reproduction, or aggression that prompts activity toward a particular end.
A massive, sustained military offensive.

a. Sports The act of hitting, knocking, or thrusting a ball very swiftly.

b. Sports The stroke or thrust by which a ball is driven.

c. Basketball The act of moving with the ball directly to the basket.

a. A rounding up and driving of cattle to new pastures or to market.

b. A gathering and driving of logs down a river.

c. The cattle or logs thus driven.
Phrasal Verb:
drive at
To mean to do or say:
I don't understand what you're driving at.
Origin: Middle English driven, from Old English drīfan; see dhreibh- in Indo-European roots.
Related Forms:
The American Heritage® Dictionary of the English Language, 4th edition Copyright © 2010 by Houghton Mifflin Harcourt Publishing Company. Published by Houghton Mifflin Harcourt Publishing Company. All rights reserved.
---
drive - Computer Definition
(1) An electromechanical device that contains and reads and writes magnetic disks, optical discs or magnetic tapes. See magnetic disk, optical disc and magnetic tape.
(2) A solid state flash drive that contains no moving parts. See USB drive.
(3) To provide power and signals to a device. For example, "this control unit can drive up to 15 terminals."
Computer Desktop EncyclopediaTHIS DEFINITION IS FOR PERSONAL USE ONLYAll other reproduction is strictly prohibited without permission from the publisher.© 1981-2014 The Computer Language Company Inc. All rights reserved.
---
drive - Medical Definition
noun
A strong motivating tendency or instinct, especially of sexual or aggressive origin, that prompts activity toward a particular end.
The American Heritage® Medical Dictionary Copyright © 2010 by Houghton Mifflin Harcourt Publishing Company. Published by Houghton Mifflin Harcourt Publishing Company. All rights reserved.
---
drive - Phrases/Idioms
drive at
to aim at
to mean; intend
drive in
to force in, as by a blow
☆

Baseball

to cause (a runner) to score or (a run) to be scored, as by getting a hit