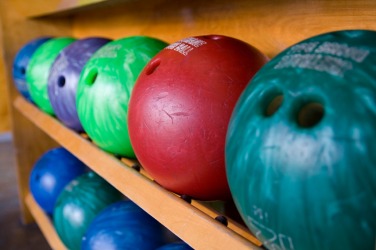 Inertia will continue until someone picks up one of these balls.
noun
The definition of inertia is when an object remains still or moves in a constant direction at a constant speed.

Facts About Inertia

Inertia will continue unless the object meets some external force.
The more inertia an object has, the less the object will change its motion when it meets another force.
The ground is the force, the motion, that causes the object to no longer have inertia and to instead stray from its speed and direction.

An example of inertia is a bowling ball sitting still on a shelf.
An example of inertia is a person walking in a straight line down the street.
---
inertia
Physics

the tendency of matter to remain at rest if at rest, or, if moving, to keep moving in the same direction, unless affected by some outside force
a tendency to remain in a fixed condition without change; disinclination to move or act
Origin of inertia
L, lack of art or skill, ignorance from
iners
: see inert
---
inertia
noun
Physics The tendency of a body at rest to remain at rest or of a body in straight line motion to stay in motion in a straight line unless acted on by an outside force; the resistance of a body to changes in momentum.
Resistance or disinclination to motion, action, or change: an entrenched bureaucracy's inertia.
Origin of inertia
Latin
idleness
from
iners
inert-
inert
; see
inert
.
Related Forms:
---
inertia

Noun
(countable and uncountable, plural inertias or inertiæ)
(physics, uncountable or countable) The property of a body that resists any change to its uniform motion; equivalent to its mass.
(figuratively) In a person, unwillingness to take action.
(medicine) Lack of activity; sluggishness; said especially of the uterus, when, in labour, its contractions have nearly or wholly ceased.
---