activity

ac·tiv·i·ty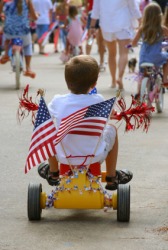 A parade is an activity.
noun
The definition of activity is something that you do or something that is going on.

Going to the movies is an example of an activity.
A parade is an example of activity
A room where a lot of people are moving about is an example of a room alive with activity.
---
activity
noun
pl.
-·ties
the quality or state of being active; action
energetic action; liveliness; alertness
a normal function of the body or mind
an active force
any specific action or pursuit: recreational activities

Chem.

the ability to react with other chemicals
a thermodynamic quantity which represents the effective concentration of a substance in a reacting chemical system
optical activity
---
activity
noun
pl.
ac·tiv·i·ties
The state of being active.
Energetic action or movement; liveliness.

a. A specified pursuit in which a person partakes.

b. An educational process or procedure intended to stimulate learning through actual experience.

The intensity of a radioactive source.
The ability to take part in a chemical reaction.
A physiological process: respiratory activity.
---
activity

Usage notes
Adjectives often used with "activity": increased, decreased, high, low, volcanic, seismic, eruptive, intellectual, physical, mental, spiritual, muscular, cerebral, favorite, recreational, practical, cultural, artistic, literary, musical, political, diplomatic, military, domestic, voluntary, missionary, chemical, optical, productive, reproductive, industrial, commercial, etc.
Origin
From Middle French activité, from Latin activitas.
---