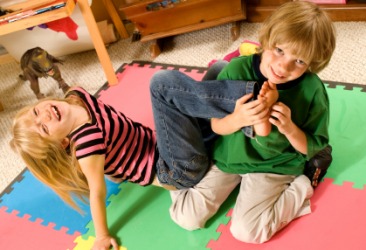 A boy tickles his sisters feet.
noun
The definition of a tickle is a light touching of the skin to cause a tingling sensation of the nerves, or to have an itching or tingling sensation.

An example of a tickle is the feeling of the bottom of the foot being tickled.
An example of a tickle is a scratchy throat that causes a cough during a cold.
verb
Tickle is defined as to please or amuse, or to lightly touch the skin of someone to produce a tingling sensation.

An example of tickle is to tell a hysterical joke.
An example of tickle is to lightly rub someone's arm and make him laugh.
---
tickle
transitive verb
-·led

,

-·ling
to please, gratify, delight, etc.: often used in the passive voice with slang intensifiers, as

tickled pink

,

tickled silly

, or

tickled to death

to stir to amusement or laughter; amuse
to excite the surface nerves of, as by touching or stroking lightly with the finger, a feather, etc., in a way that causes involuntary twitching, a pleasant tingling, laughter, etc.
Origin of tickle
Middle English
tikelen
, akin to German dialect, dialectal
zickeln
, Old English
tinclian
, to tickle: for Indo-European base see tick
to have an itching, scratching, or tingling sensation: a throat that tickles
to cause a tickling sensation: that feather tickles
to be readily affected by excitation of the surface nerves; be ticklish
a tickling or being tickled
a tickling sensation
---
tickle
verb
tick·led, tick·ling, tick·les
verb
transitive
To touch (the body) lightly so as to cause laughter or twitching movements.

a. To tease or excite pleasurably; titillate: suspense that tickles the reader's curiosity.

b. To fill with mirth or pleasure; delight.
verb
intransitive
To feel or cause a tingling sensation.
noun
The act of tickling.
A tickling sensation.
Origin of tickle
Middle English
tikelen
perhaps frequentative of
ticken
to touch lightly
---
tickle

Noun
(plural tickles)
The act of tickling.
A feeling resembling the result of tickling.

I have a persistent tickle in my throat.

(Newfoundland) A narrow strait.
Verb
(third-person singular simple present tickles, present participle tickling, simple past and past participle tickled)
To touch repeatedly or stroke delicately in a manner which causes the recipient to feel a usually pleasant sensation of tingling or titillation.

He tickled Nancy's tummy, and she started to giggle.

(intransitive, of a body part) To feel as if the body part in question is being tickled.

My nose tickles, and I'm going to sneeze!

To appeal to someone's taste, curiosity etc.
(intransitive) To feel titillation.
Adjective
(comparative more tickle, superlative most tickle)
Origin
Middle English tikelen, related to Old English tinclian ("to tickle"). Cognate with North Frisian "tigele" (Hallig dialect), and "tiikle" (Amrum dialect).
---
tickle - Computer Definition
---