noun
The definition of a caress is a soft, gentle and loving touch.

When a mother strokes her babies cheek, this is an example of a caress.
verb
To caress is to stroke gently and lovingly.

When you gently stroke someones cheek, this is an example of a caress.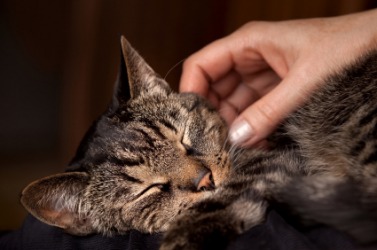 A woman caressing her cat.
---
caress definition by Webster's New World
transitive verb
to touch or stroke lovingly or gently; also, to embrace or kiss: often used figuratively, as of a voice or music
to treat kindly or affectionately
Origin: French caresser ; from Italian carezzare; ultimately ; from Classical Latin carus, dear: see charity
noun
an affectionate touch or gesture, as a kiss, embrace, etc.
Webster's New World College Dictionary Copyright © 2010 by Wiley Publishing, Inc., Cleveland, Ohio. Used by arrangement with John Wiley & Sons, Inc.
---
caress definition by American Heritage Dictionary
noun
A gentle touch or gesture of fondness, tenderness, or love.
transitive verb
ca·ressed
,
ca·ress·ing
,
ca·ress·es
To touch or stroke in an affectionate or loving manner.
To touch or move as if with a caress: soft music that caressed the ears.
To treat fondly, kindly, or favorably; cherish.
Origin: French caresse, from Italian carezza, from caro, dear, from Latin cārus; see kā- in Indo-European roots.
Related Forms: