coy

coy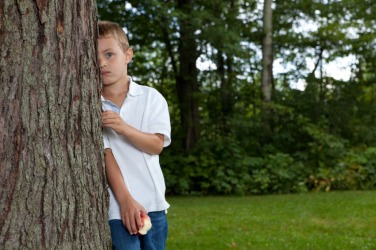 A child being coy.
adjective
The definition of coy is pretending or appearing to be shy or modest in an attempt to be playful or flirtatious, or a reluctance to provide information or make a commitment.

An example of coy is a woman who bats her eyelashes and pretends to be helpless and innocent.
An example of coy is when you are shy about admitting your age.
---
coy
Obs.

quiet; silent

Archaic

shrinking from contact or familiarity with others; bashful; shy
primly reserved; demure

affecting innocence or shyness, esp. in a playful or coquettish manner
reticent or evasive, as in making a commitment

Archaic

inaccessible; secluded

Obs.

disdainfully aloof
Origin of coy
ME, still, quiet from Old French
coi,
earlier
quei
from Late Latin an unverified form
quetus
from Classical Latin
quietus:
see quiet
Archaic
to behave in a coy way
---
coy
adjective
coy·er, coy·est
a. Affectedly and often flirtatiously shy or modest: "I pictured myself as some sylvan deity, and she a coy wood nymph of whom I was in pursuit" ( Washington Irving )

b. Characterized by or suggesting such shyness or modesty: "How absurd I must have looked standing there before him … a coy little simper on my foolish young face" ( Jane Avrich )

Unwilling to make a commitment or divulge information: "As a child, when I asked my mother her age she was coy and evasive" ( Lynne Sharon Schwartz )
Tending to avoid people and social situations; reserved: "The children were staring up at him, too coy to question him and too curious not to stare" ( Edwidge Danticat )
Origin of coy
Middle English
from
Old French
quei, coi
quiet, still
from
Vulgar Latin
quētus
from
Latin
quiētus
past participle of
quiēscere
to rest
; see
kweiə-
in Indo-European roots.
Related Forms:
---
coy

---