skittish

skit·tish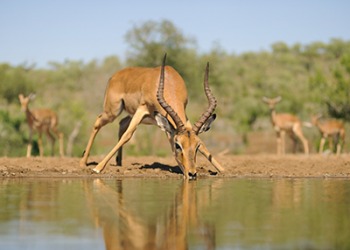 The Impala ram, wary of predators, was skittish while drinking at the waterhole.
adjective
The definition of skittish is jumpy or easy to frighten.

A horse that gets very nervous at every little sound and that jumps and runs whenever he hears a noise is an example of a horse that would be described as skittish.
---
skittish
lively or playful, esp. in a coy manner
easily frightened; jumpy: a skittish horse
fickle or undependable
Origin of skittish
ME: see skit and -ish
---
skittish
adjective
Moving quickly and lightly; lively.
Restlessly active or nervous; restive.
Undependably variable; mercurial or fickle.
Shy; bashful.
Origin of skittish
Middle English
perhaps of Scandinavian origin
Old Norse
skjōta
to shoot
; see
shoot
.
Related Forms:
---
skittish

---