adjective
The definition of solemn is something that is done formally or according to tradition.

An example of solemn is always getting together at the same person's house for Thanksgiving.

Solemn means someone or something serious, sincere or impressive.

An example of solemn is how someone's face looks when worried about a sick friend.
An example of solemn is making a serious promise to someone.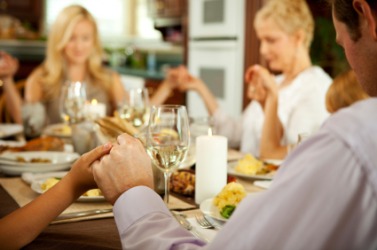 A solemn moment during a traditional Thanksgiving meal.
---
solemn definition by Webster's New World
adjective
observed or done according to ritual or tradition: said esp. of religious holidays, rites, etc.
sacred in character

according to strict form; formal: a solemn ceremony

serious or grave: a solemn face
deeply earnest; very sincere: a solemn oath

very impressive or arousing feelings of awe because of its great importance or seriousness: a solemn occasion
somber because dark in color
Origin: Middle English solemne ; from Old French ; from Classical Latin sollemnis, sollennis, yearly, annual, hence religious, solemn (from associated, association with annual religious festivals) ; from sollus, all, entire ; from Oscan, akin to Classical Latin salvus (see safe) plush uncertain or unknown; perhaps annus, year
Webster's New World College Dictionary Copyright © 2010 by Wiley Publishing, Inc., Cleveland, Ohio. Used by arrangement with John Wiley & Sons, Inc.
---
solemn definition by American Heritage Dictionary
adjective
Deeply earnest, serious, and sober.
Somberly or gravely impressive. See Synonyms at serious.
Performed with full ceremony: a solemn High Mass.
Invoking the force of religion; sacred: a solemn vow.
Gloomy; somber.
Origin: Middle English solemne, from Old French, from Latin sollemnis, established, customary; see sol- in Indo-European roots.
Related Forms: