noun
The definition of a protest is a formal objection, such as a document or a meeting.

An example of a protest is a group of people gathering together in a public setting to show that they don't agree with a decision made by a government body.
verb
To protest is to make clear you object to something, especially if you do so publicly through demonstrations.

An example of protest is when you deny that you feel the way that a person is accusing you of feeling.
An example of protest is when you carry signs and picket a workplace to show your disapproval for their bad labor practices.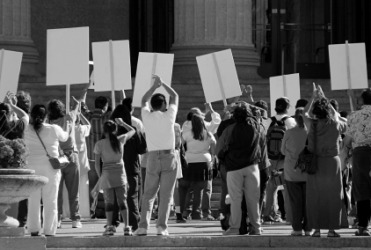 A group of people hold up protest signs.
---
protest definition by Webster's New World
transitive verb
to state positively; affirm solemnly; assert
☆ to make objection to; speak strongly against
to make a written declaration of the nonpayment of (a bill of exchange or a promissory note)
Origin: Middle English protesten ; from Middle French protester ; from Classical Latin protestari ; from pro-, pro- plush testari, to affirm ; from testis, witness: see testify
intransitive verb
to make solemn affirmation
to express disapproval; object; dissent
noun
an objection; remonstrance
a document formally objecting to something

Law

a written declaration by a notary on behalf of the holder of a bill or note, showing that it has not been honored by the drawer
a written declaration by the master of a ship attesting to the fact that damages or losses were sustained from unavoidable natural causes, and rejecting any liability of the officers and crew
a declaration by a payer, esp. of a tax, disputing the legality or the amount of the payment being made
---
protest definition by American Heritage Dictionary
verb
pro·test·ed
,
pro·test·ing
,
pro·tests
verb
, transitive
To object to, especially in a formal statement. See Synonyms at object.
To promise or affirm with earnest solemnity: "He continually protested his profound respect" (Frank Norris).
Law To declare (a bill) dishonored or refused.
Archaic To proclaim or make known: "unrough youths that even now/Protest their first of manhood" (Shakespeare).
verb
, intransitive
To express strong objection.
To make an earnest avowal or affirmation.
noun
A formal declaration of disapproval or objection issued by a concerned person, group, or organization.
An individual or collective gesture or display of disapproval.
Law

a. A formal statement drawn up by a notary for a creditor declaring that the debtor has refused to accept or honor a bill.

b. A formal declaration made by a taxpayer stating that the tax demanded is illegal or excessive and reserving the right to contest it.
Origin: Middle English protesten, from Old French protester, from Latin prōtestārī : prō-, forth; see pro-1 + testārī, to testify (from testis, witness; see trei- in Indo-European roots).
Related Forms:
The American Heritage® Dictionary of the English Language, 4th edition Copyright © 2010 by Houghton Mifflin Harcourt Publishing Company. Published by Houghton Mifflin Harcourt Publishing Company. All rights reserved.
---
protest - Legal Definition
n
A formal objection to something that is, will be, or has been done.
Webster's New World Law Dictionary Copyright © 2010 by Wiley Publishing, Inc., Hoboken, New Jersey. Used by arrangement with John Wiley & Sons, Inc.
---
protest - Phrases/Idioms
under protest
while expressing one's objections; unwillingly