verb
The definition of accept means to willingly take, receive or agree to an object or idea.

1. An example of to accept an item is to take a gift given as a thank you for a favor.2. An example of to accept an idea is to agree to follow the rules of a particular religion.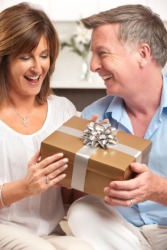 A woman accepts a gift.
---
accept definition by Webster's New World
transitive verb
to take (what is offered or given); receive, esp. willingly
to receive favorably; approve: to accept a theory
to submit to; be resigned to: he had to accept defeat
to believe in
to understand as having a certain meaning
to respond to in the affirmative: to accept an invitation
to admit as a student, member, etc.
to agree to take the responsibilities of (a job, office, etc.)
to receive (a committee report) as satisfactory according to parliamentary procedure

Business

to agree, as by a signed promise, to pay

Law

to receive with intent to retain and adopt
Origin: Middle English accepten ; from Old French accepter ; from Classical Latin acceptare ; from past participle stem of accipere ; from ad-, to plush capere, to take: see have
intransitive verb
to accept something offered
Webster's New World College Dictionary Copyright © 2010 by Wiley Publishing, Inc., Cleveland, Ohio. Used by arrangement with John Wiley & Sons, Inc.
---
accept definition by American Heritage Dictionary
verb
ac·cept·ed
,
ac·cept·ing
,
ac·cepts
verb
, transitive
a. To answer affirmatively: accept an invitation.

b. To agree to take (a duty or responsibility).

To receive (something offered), especially with gladness or approval: accepted a glass of water; accepted their contract.
To admit to a group, organization, or place: accepted me as a new member of the club.

a. To regard as proper, usual, or right: Such customs are widely accepted.

b. To regard as true; believe in: Scientists have accepted the new theory.

c. To understand as having a specific meaning.

To endure resignedly or patiently: accept one's fate.
To be able to hold (something applied or inserted): This wood will not accept oil paints.
To receive officially: accept the committee's report.
To consent to pay, as by a signed agreement.
Medicine To receive (a transplanted organ or tissue) without immunological rejection.
verb
, intransitive
To receive something, especially with favor. Often used with of.
Origin: Middle English accepten, from Latin acceptāre, frequentative of accipere, to receive : ad-, ad- + capere, to take; see kap- in Indo-European roots.