traditional
tra·di·tion·al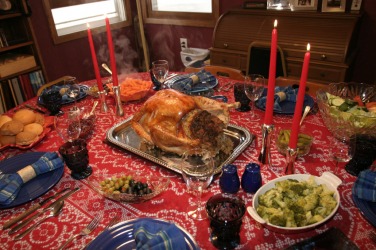 A traditional Thanksgiving dinner.
adjective
The definition of traditional is something that is in keeping with long-standing tradition, style or custom.

An example of traditional is the practice of eating turkey as the traditional or accepted Thanksgiving meal.
An example of traditional is a formal style of furniture that doesn't change with fads or the seasons.
---
traditional
of, handed down by, or conforming to tradition; conventional

also

tra·di′tion·ar·y

or

Rare

trad′i·tive

designating or of a style of improvised jazz associated historically with early black New Orleans musicians and typically played by a band made up of one or two cornets, a clarinet, a trombone, and a rhythm section that includes a banjo and a tuba
---
traditional
adjective
Of, relating to, or in accord with tradition: a traditional wedding ceremony.
Related Forms:
---
traditional

Adjective
(comparative more traditional, superlative most traditional)
Of or pertaining to tradition; derived from tradition; communicated from ancestors to descendants by word only; transmitted from age to age without writing; as, traditional opinions; traditional customs; traditional expositions of the Scriptures.

I think her traditional values are antiquated.

Observant of tradition; attached to old customs; old-fashioned.
---