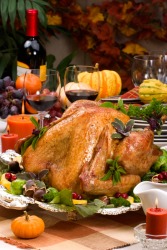 Eating turkey is part of the Thanksgiving tradition.
noun
The definition of a tradition is a custom or belief that is passed down through the generations or that is done time after time or year after year.

An example of a tradition is eating turkey on Thanksgiving or putting up a tree on Christmas.
---
tradition
Obs.

a surrender or betrayal

the handing down orally of stories, beliefs, customs, etc. from generation to generation
a story, belief, custom, proverb, etc. handed down in this way

a historical line of conventions, principles, or attitudes characteristic of a school, social group, movement, etc.: the realist tradition in literature
a long-established custom or practice having the effect of precedent or unwritten law

Law

delivery (sense )

Theol.

among Jews, the unwritten religious code and doctrine regarded as handed down from Moses
among Christians, the unwritten teachings regarded as handed down from Jesus and the Apostles
among Muslims, the sayings and acts attributed to Muhammad and transmitted orally
Origin of tradition
Middle English
tradycion
from Middle French
tradicion
from Classical Latin
traditio
, a surrender, delivery, tradition from
traditus
, past participle of
tradere
, to deliver: see treason
---
tradition
noun
The passing down of elements of a culture from generation to generation, especially by oral communication: cultural practices that are preserved by tradition.

a. A mode of thought or behavior followed by a people continuously from generation to generation; a custom or usage: the traditions of Tibetan Buddhism.

b.

A set of such customs and usages viewed as a coherent body of precedents influencing the present:

followed family tradition in dress and manners.

See Synonyms at

heritage

.

A precept or a body of precepts that are not written in the sacred book of a religion, such as the Bible, but are considered holy or true.
A style or method of an activity or practice, especially of artistic expression, that is recognized and sometimes imitated: satire in the tradition of Jonathan Swift.
A piece of folklore: "a popular medieval tradition that identified the queen of Sheba with the Blessed Virgin Mary" ( Nicholas Clapp )
Origin of tradition
Middle English
tradicioun
from
Old French
from
Latin
trāditiō
trāditiōn-
from
trāditus
past participle of
trādere
to hand over, deliver, entrust
trā-, trāns-
trans-
dare
to give
; see
dō-
in Indo-European roots.
---
tradition

Noun
(plural traditions)
A part of culture that is passed from person to person or generation to generation, possibly differing in detail from family to family, such as the way to celebrate holidays.
A commonly held system.
The act of delivering into the hands of another; delivery.
Verb
(third-person singular simple present traditions, present participle traditioning, simple past and past participle traditioned)
(obsolete) To transmit by way of tradition; to hand down.
Origin
From Latin trāditiō, from the verb trādere.
---