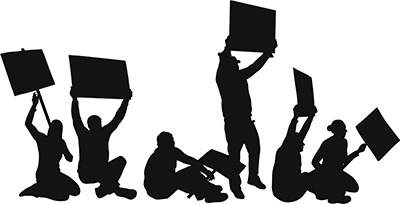 The workers staged a sit in to protest unfair wages.
noun
The definition of a sit in is a method of protesting where the protestors sit down at a certain spot and refuse to leave.

An example of a sit in is when those protesting unsafe conditions at a factory sit on the steps of the factory building and refuse to move.
---
sit-in
a method of protesting the policy of a government, business, etc., in which demonstrators sit in, and refuse to leave, a public place, thus blocking traffic, disrupting operations, etc.
---
sit-in
noun
An organized protest demonstration in which participants seat themselves in an appropriate place and refuse to move.
The act of occupying the seats or an area of a segregated establishment to protest racial discrimination.
---
sit-in

Verb
(third-person singular simple present sits in, present participle sitting in, simple past and past participle sat in)
(idiomatic) To attend something for one time, as a visitor.
---