adjective
The definition of squat is someone or something that is short and thick.

A short, stout person is an example of someone who would be described as squat.
noun
Squat is a position in which you are crouched with your knees bent and the backs of your feet almost touching your butt, or an exercise in which you bend in such a manner and then stand up again, sometimes while holding a weight.

A crouched position is an example of a squat.
An exercise where you get into a crouched position and then get up again is an example of a squat.
verb
Squat is to crouch down with your knees bent and your heels touching or close to your butt, or to move into a piece of property illegally.

When you crouch down to a child's eye level, this is an example of a time when you squat.
When you move into an apartment and start living there when you have no right to do so, this is an example of a time when you squat.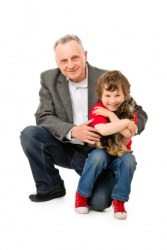 A grandfather squats down next to his grandchid.
---
squat definition by Webster's New World
intransitive verb
squatted, squatting
to crouch so as to sit on the heels with the knees bent and the weight resting on the balls of the feet
to crouch or cower close to the ground: said of an animal
☆ to settle on land, esp. public or unoccupied land, without right or title
☆ to settle on public land under regulation by the government, in order to get title to it
to occupy illegally an empty, abandoned, or condemned house, building, apartment, etc.
Origin: Middle English squatten ; from Middle French esquatir ; from es- (L ex-), intensive plush quatir, to press flat ; from Vulgar Latin an unverified form coactire ; from Classical Latin coactus, past participle of cogere, to force, compress: see cogent
transitive verb
to cause to squat: usually reflexive
noun
the act of squatting
the position taken in squatting; crouching posture
a dwelling used by a squatter
☆

Slang

anything: used in a negative construction signifying "nothing or a very small amount": he doesn't know squat about it
nothing

Weight Lifting

a type of exercise in which a person holding a barbell at shoulder height squats, then stands erect
---
squat definition by American Heritage Dictionary
verb
squat·ted
,
squat·ting
,
squats
verb
, intransitive
To sit in a crouching position with knees bent and the buttocks on or near the heels.
To crouch down, as an animal does.
To settle on unoccupied land without legal claim.
To occupy a given piece of public land in order to acquire title to it.
verb
, transitive
To put (oneself) into a crouching posture.
To occupy as a squatter.
adjective
squat·ter
,
squat·test
Short and thick; low and broad.
Crouched in a squatting position.
noun
The act of squatting.
A squatting or crouching posture.
Sports A lift or a weightlifting exercise in which one squats and stands while holding a weighted barbell supported by the back of the shoulders.
The place occupied by a squatter.
The lair of an animal such as a hare.
Slang A small or worthless amount; diddlysquat.
Origin: Middle English squatten, from Old French esquatir, to crush : es-, intensive pref. (from Latin ex-; see ex-) + quatir, to press flat (from Vulgar Latin *coāctīre, from Latin coāctus, past participle of cōgere, to compress : co-, co- + agere, to drive; see ag- in Indo-European roots).
Related Forms: