Humpty Dumpty
Humpty Dumpty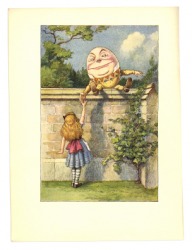 An illustration of Humpty Dumpty.
noun
The definition of Humpty Dumpty is an egg-like character from an old nursery rhyme who fell off a wall and broke into pieces.

An example of Humpty Dumpty is the figure who could not be put back together by "all the king's horses and all the king's men."
---
Humpty Dumpty
a short, squat character in an old nursery rhyme, a personification of an egg, who fell from a wall and broke into pieces
---
humpty-dumpty

Origin
Possibly baby talk forms of Humphrey, since Dump and Dumphry have been recorded as pet forms of this given name.
---