precarious

pre·car·i·ous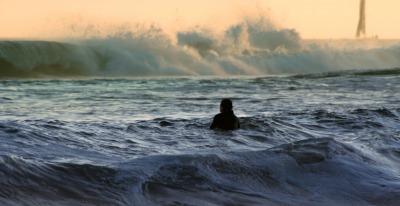 Precarious is swimming in a rough sea.
adjective
The definition of precarious is something dependent on forces or circumstances outside one's control.

An example of precarious is swimming in a rough ocean.
---
precarious
dependent upon the will or favor of another person
dependent upon circumstances; uncertain; insecure: a precarious living
dependent upon chance; risky: a precarious foothold
dependent upon mere assumption; unwarranted: a precarious assertion
Origin of precarious
Classical Latin
precarius:
see prayer
---
precarious
adjective
Dangerously lacking in security or stability: a precarious posture; precarious footing on the ladder.
Subject to chance or unknown conditions: "His kingdom was still precarious; the Danes far from subdued" ( Christopher Brooke )
Based on uncertain, unwarranted, or unproved premises: a precarious solution to a difficult problem.
Archaic Dependent on the will or favor of another.
Origin of precarious
From
Latin
precārius
obtained by entreaty, uncertain
from
precārī
to entreat
; see
pray
.
Related Forms:
---
precarious

Usage notes
Because the pre- element of precarious derives from prex and not the preposition prae, this term cannot "" etymologically speaking "" be written as *præcarious.
---