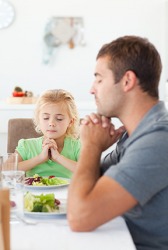 A father and daughter pray before eating their meal.
verb
Pray is defined as to ask for something or to offer thanks or praise to a god, goddess or other deity.

An example of to pray is asking God to bless a meal you're about to eat.
---
pray
to implore or beseech: now seldom used except as the elliptical form of "I pray you": pray tell me
to ask for by prayer or supplication; beg for imploringly
to recite (a prayer) silently or aloud

Archaic

to bring about, get, etc. by praying
Origin of pray
Middle English
preien
from Old French
preier
from Late Latin
precare
, for Classical Latin
precari
from
prex
(gen.
precis
), prayer from Indo-European an unverified form
pre?-
, variant, variety of base an unverified form
per?-
, question from source German
frage
, question
to ask very earnestly; make supplication, as to a deity
to worship God, a god, etc., as by reciting certain set formulas silently or aloud
---
pray
verb
prayed, pray·ing, prays
verb
intransitive
To utter or address a prayer or prayers to a deity or an object of worship, often as an entreaty: people praying in the pews of the church; people praying for divine guidance; people praying for their loved ones.
verb
transitive
To use prayer to request (that something may happen): The congregation prayed that the drought would end soon. The child prayed to be more considerate of others.
To say (a prayer or group of prayers): pray the rosary.
To make a devout or earnest request for: I pray your forgiveness.
To utter or say a prayer or prayers to; address by prayer: "I pray Heaven that I never may forget the dear girl" ( Charles Dickens )
Archaic To ask (someone) imploringly for something; beseech. Used chiefly in the phrase I pray you to introduce a polite or urgent request or question: I pray you be careful.
adverb
Used to make a polite or urgent request or question: Pray don't apologize.
Origin of pray
Middle English
preien
from
Old French
preier
from
Latin
precārī
from
precēs
pl. of
*prex
prayer
; see
prek-
in Indo-European roots.
---
pray

Verb
(third-person singular simple present prays, present participle praying, simple past and past participle prayed)
To petition or solicit help from a supernatural or higher being.

Muslims pray in the direction of Mecca.

(religion) to communicate with God for any reason.
Origin
From Middle English preien, from Anglo-Norman preier, from Old French preier, proier, (French prier), from Late Latin precāre, from Latin precārÄ«, present active infinitive of precor, from prex, precis, "a prayer, a request"; akin to Sanskrit prach "to ask", Old English frignan, fricgan, German fragen, Dutch vragen. Confer deprecate, imprecate, precarious.
---