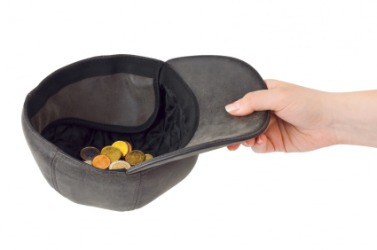 A hand holding out a cap to beg.
verb
The definition of beg means to plead for something, especially for money or assistance.

An example of beg is to repeatedly ask for permission to go to a party, offering to do anything your mom wants if she will let you go.
An example of beg is when a public television station holds pledge drives asking for donations.
---
beg
transitive verb
begged

,

beg′ging
to ask for as charity or as a gift: he begged a dime
to ask for earnestly as a kindness or favor
Origin of beg
Middle English
beggen
from Anglo-French
begger
from
begart
from Old French
begard,
religious mendicant from Middle Dutch
beggaert
to ask for alms; be a beggar
to ask humbly; entreat
beg off
to ask to be released from some obligation
beg the question
to use an argument that assumes as proved the very thing one is trying to prove

loosely

to evade the issue
to lead naturally or logically to the following: phrase used as a rhetorical bridge between a point made and a question that results from it: the employee's incompetence begs the question: who hired him in the first place?
go begging
to be available but unwanted
---
beg
verb
begged, beg·ging, begs
verb
transitive
a. To ask (someone) for something in an urgent or humble manner: begged me for help; begged me to give him the phone number.

b. To ask for (something) in an urgent or humble manner: beg someone's forgiveness; beg a favor.

c. To ask for (food or money, for instance) as a beggar.

To ask (permission) to do something: begged leave to attend the ceremony.

a. To evade; dodge: a speech that begged the real issues.

b. To take for granted without proof: beg the point in a dispute.
verb
intransitive
a. To ask for something, especially money or food from strangers, in an urgent or humble manner.

b. To live as a beggar.

To make an urgent or humble plea: beg for mercy.
Phrasal Verbs:
beg off
To ask to be released from something, such as an obligation:
We were invited to stay for dinner, but we had to beg off.
Origin of beg
Middle English
beggen
possibly from
Anglo-Norman
begger
from
Old French
begart
lay brother, one who prays
; see
beggar
.
Usage Note: Historically, logicians and philosophers have used the phrase beg the question to mean "to put forward an argument whose conclusion is already assumed as a premise." Usually, when people beg the question in this sense, the conclusion and the assumed premise are put in slightly different words, which tends to obscure the fact that such an argument is logically meaningless. For instance, to argue that caviar tastes better than peanut butter because caviar has a superior flavor is to beg the question—the premise that is taken as given (that caviar's flavor is superior) is essentially identical to the point it is intended to prove (that caviar tastes better).•But since at least the early 1900s, laypeople have been using beg the question in slightly different senses, to mean "raise a relevant question" or "leave a relevant question unanswered." When used in these senses, beg the question is usually followed by a clause explaining what the question in question is, as in That article begs the question of whether we should build a new school or renovate the old one or The real estate listing claims that the kitchen is spacious, which begs the question of what "spacious" means. These senses of beg the question are so well established that they have nearly displaced the original sense in everyday usage, but they are still often frowned on by traditionalists, especially those with training in philosophy; in our 2013 survey, the sentences above were judged acceptable only by slim majorities of the Usage Panel—55 and 58 percent, respectively. By contrast, a sentence using the phrase in its original sense ( When I asked him why we must protect every endangered species regardless of the cost, he said it was because every species is priceless, but that just begs the question ) was considered acceptable by 79 percent of the Panel. The newer senses of beg the question will probably continue to flourish because "begging a question" suggests "begging for," or "raising" a question. However, this broader usage will also probably continue to draw the ire of philosophers and others who use the "circular reasoning" sense of the term, for which there is no good substitute, and do not want to see its technical meaning lost.
---
beg

---