entreat
en·treat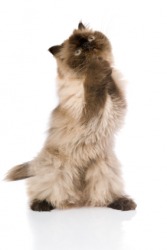 A cat entreats its owner.
verb
To entreat is defined as to beg for something or beg to do something.

An example of entreat is when you beg your mother to let you go to a party.
---
entreat
Archaic

to behave toward; treat
to ask earnestly; beg; beseech; implore
Origin of entreat
Middle English
entreten
, to treat, deal with, beseech ; from Anglo-French
entretier
; from Old French
entraiter
; from
en-
, in +
traiter
: see treat
to make an earnest appeal; plead

Obs.

to speak or write (of)
---
entreat
verb
en·treat·ed
,
en·treat·ing
,
en·treats
verb
, transitive
To make an earnest request of (someone). See Synonyms at beg.
To ask for earnestly; petition for: "She made a hasty gesture with her hand, as if to entreat my patience and my silence" (Charles Dickens).
Archaic To deal with; treat.
verb
, intransitive
To make an earnest request or petition.
Origin of entreat
Middle English
entreten
, from Anglo-Norman
entreter
:
en-
,
causative pref.
; see
en–
1
+
treter
,
to treat
; see
treat
.
Related Forms:
---
entreat
Noun
(plural entreats)
Alternative form of entreaty.
Verb
(third-person singular simple present entreats, present participle entreating, simple past and past participle entreated)
Bible, Jer. xv. 11

I will cause the enemy to entreat thee well.

To treat with, or in respect to, a thing desired; hence, to ask earnestly; to beseech; to petition or pray with urgency; to supplicate; to importune.
To beseech or supplicate (a person); to prevail upon by prayer or solicitation; to try to persuade.
Bible, 1 Mac. x. 47

Alexander […] was first that entreated of true peace with them.
Origin
From Anglo-Norman entretier, from Old French entraiter, from en- + traiter.
---