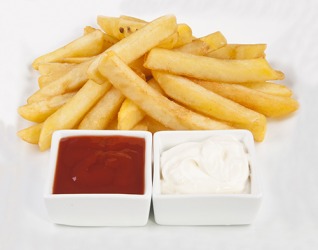 Every time Mark orders french fries at a restaurant, he requests mayonnaise as a dipping sauce too.
noun
Request is defined as the act of asking for something or something you asked for.

An example of request is the song someone asked a band to play.
verb
Request means to ask for something.

An example of request is to ask for a menu in a restaurant.
---
request
the act of asking, or expressing a desire, for something; solicitation or petition
something asked for: to grant a request
the state of being asked for or wanted; demand: a song much in request
Origin of request
Middle English from Old French
requeste
from Medieval Latin
requesta
from feminine past participle of Vulgar Latin an unverified form
requaerere:
see require
to express a wish or desire for; ask for, esp. in a polite or formal way: often followed by an infinitive or by a clause beginning with that
to ask (a person) to do something
---
request
transitive verb
re·quest·ed, re·quest·ing, re·quests
To express a desire for, especially politely; ask for. Often used with an infinitive or clause: requested information about the experiment; requested to see the evidence firsthand; requested that the bus driver stop at the next corner.
To ask (a person) to do something: The police requested her to accompany them.
noun
An act of asking for something.
Something asked for: wasn't happy until he got his request.
Origin of request
From
Middle English
requeste
the act of requesting
from
Old French
from
Vulgar Latin
(rēs) requaesita
(thing) requested
from alteration of
Latin
requīsīta
feminine past participle of
requīrere
to ask for
; see
require
.
Related Forms:
---
request

Noun
(plural requests)
Act of requesting.
A formal message requesting something.
Condition of being sought after.
Verb
(third-person singular simple present requests, present participle requesting, simple past and past participle requested)
to express the need or desire for
to ask somebody to do something
Origin
From Old French requeste (French: requête), from Vulgar Latin *requæsita, from Latin requisita, feminine of requisitus ("requested, demanded"), past participle of requÄ«rō ("require, ask").
---